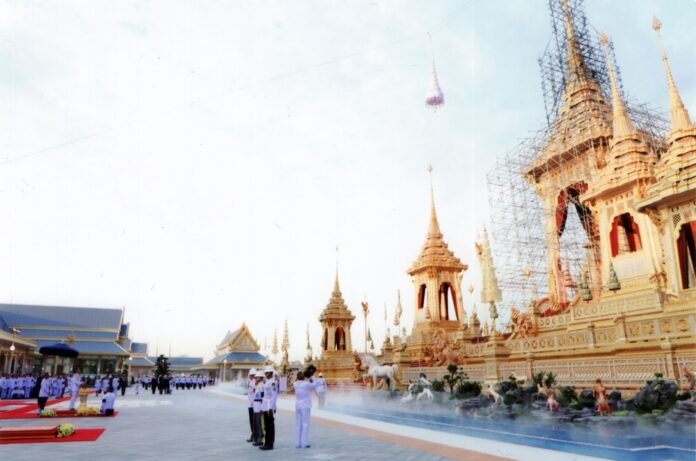 BANGKOK — A full run-through of funerary rites for His Majesty the Late King Bhumibol was announced Thursday after King Vajiralongkorn put the final piece in place on the massive funerary complex where his father will be cremated next week.
The king presided Wednesday evening over a ceremony to raise a white, multi-tiered umbrella to the apex of the pyre structure, signaling the completion of the project which took nearly a year to build. Three billion baht has been earmarked for the royal funeral.
Officials said the remaining scaffolding would be taken down today. The royal cremation, an event expected to draw hundreds of thousands of mourners to Bangkok, is set to take place Oct. 26 on the grounds of the Sanam Luang.
Deputy junta chairman Prawit Wongsuwan told reporters today that a full rehearsal of the funerary procession will take place Saturday.
Despite making waves earlier this month by warning of an alleged plot to sabotage the funeral, Gen. Prawit said the situation is now expected to go smoothly.
"Don't worry, because we are ready," Prawit said. "I'd like to ask the media not to ask too many questions during this period."
Related stories:
Radical Redshirts Discussed Funeral Sabotage Before Warning
Drones Grounded Over Most of Bangkok for Royal Cremation
Reporter's Notebook: Covering the Late King's Death at Siriraj Hospital