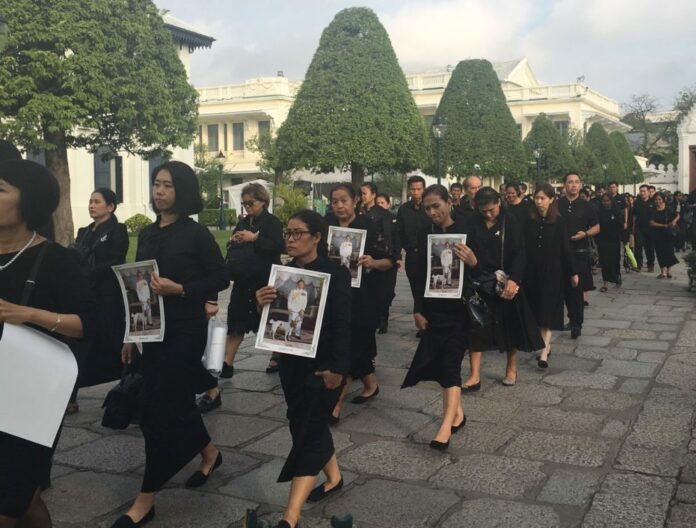 BANGKOK — Threats to cause disturbances during the funeral for His Majesty the Late King were discussed by hardline Redshirt activists several days before the government issued a warning.
While the government's Monday warning of a plot to sabotage the royal funeral were widely dismissed as groundless, several anti-monarchy activists took to YouTube a week ago on Sept. 27 to urge listeners to take action and disrupt the historic event through minor acts of monkeywrenching.
"I think Oct. 26 is a very appropriate time," a man identifying himself as Comrade Khao Niew (sticky rice) says in the video, referring to the royal cremation date. "But if anyone wants to start earlier than that, it's not against the rules either."
Read: Govt Warns of Plot to Disrupt Royal Funeral
His co-host, who calls himself Uncle Sanam Luang, gives several explicit examples of how the agitators can disrupt the ceremony.
Strict enforcement of the royal defamation law means Khaosod English cannot publish his remarks in full, though at one point he flirted with the idea of clogging toilets all across the country on the day imitation cremation ceremonies take place outside Bangkok so mourners and volunteers could not use them. No acts of violence were discussed.
"Someone suggested to me that people should put sanitary napkins into toilet bowls. Clog all the toilets in provincial offices," the "uncle" said. "This is just a suggestion, I am not encouraging anyone. But how can I stop anyone from doing it?"
He went on to say that the funeral is a rare opportunity for important officials and delegates to gather in one place.
"They used millions of baht to gather these people. They are preparing it for us," Uncle Sanam Luang said.
Such videos are part of the so-called "underground Redshirt radio" network of anti-monarchy activists thought to be living in exile outside Thailand. Though they identify themselves as Redshirts, they are on the far fringe of the movement that mostly supports influential former leader Thaksin Shinawatra.
The Sept. 27 video also featured the voice of a woman claiming to have phoned in from Thailand. She told the hosts she believed the time has come to take action.
"Right now we are ready in every way," the unidentified woman said. "If we don't use this occasion, this … if we don't make it happen this day, I mean, on Oct. 26, things will happen in every way they want."
She ended the call by apologizing in advance that she would not be able to phone in for some time because she had a lot of "preparations" to make.
One person familiar to the radical Redshirt republican movement said similar discussions and threats have been spreading on their online radio network for a month now. The person, who for legal reasons cannot be identified by name in this article, said the chatter likely worried the military government and spurred them to action.
An academic in exile familiar with the radical Redshirt republican movement said similar discussions and threats have been spreading through their online radio network for a month now. The person, a former Thammasat historian the ruling junta has threatened prosecution of those who name him online, said the chatter likely worried the military government and spurred them into action.
"The NCPO spoke out about this themselves," the person said, referring to the junta's preferred name of the National Council of Peace and Order. "It shows that they probably take this matter seriously."
On Monday, several high-ranking government officials, including junta's No. 2, first broke the news to the public they had received reports of anti-monarchy elements plotting to disrupt the royal funeral.
"We have information there are groups of people who are preparing to take action and cause incident during the royal funeral, both domestic and overseas," Gen. Prawit Wongsuwan told reporters. "We have to prevent any incident caused by the people who oppose and have ill intentions toward the monarchy."
Nithiwat Wannasiri, a monarchy critic living in exile, said he's heard of plans by some radical activists to organize "symbolic" resistance like dropping human feces on the royal funeral grounds. But he said he's unaware of any threat of actual violence.
"I think some people may sneak in and do it, but no one will do so openly," Nithiwat said in online messages. "But even if there is any action, it will be something that can be easily fixed for the military and state anyway, and the target will be symbolic more than creating violence."
Whether sincere or just provocative, allusions were made to firearms in the Sept. 27 video.
"In Chinese revolutions, they chose the lunar worship day, because people thought it was firecrackers when they heard the gunshots. They heard bang-bang and they thought it was firecrackers," Uncle Sanam Luang said. "So, on the day of the event, there will be lot of people, we will go in, isn't that right?"
Talk of actual violence preceded the recent videos, according to Nithiwat. He said Ko Tee, a "hardcore" Redshirt activist, openly advocated setting up "militant groups" to sabotage the royal funeral prior to his mysterious disappearance and likely murder.
"But after Ko Tee disappeared, they were all just symbolic activities," Nithiwat said.
While the former Thammasat professor who closely monitors overseas Redshirt radicals community said it's highly unlikely anyone would commit violent acts, he fears some listeners might be motivated to go out and do something.
"The supporters increasingly talk about more and more seriously that they will do it, so there is a possibility," he said, adding that Uncle Sanam Luang is a celebrity host who easily attracts at least 2,000 listeners whenever he does a live talk show.  
Nithiwat, the exiled activist, stressed that not everyone in the exile community agrees with disrupting the late king's funeral.
He said any attempt to cause havoc on that day could backfire and spur the authorities into an an even harsher crackdown monarchy critics real and perceived
"Personally I think it's a tactic that has more to lose than to gain," Nithiwat said.