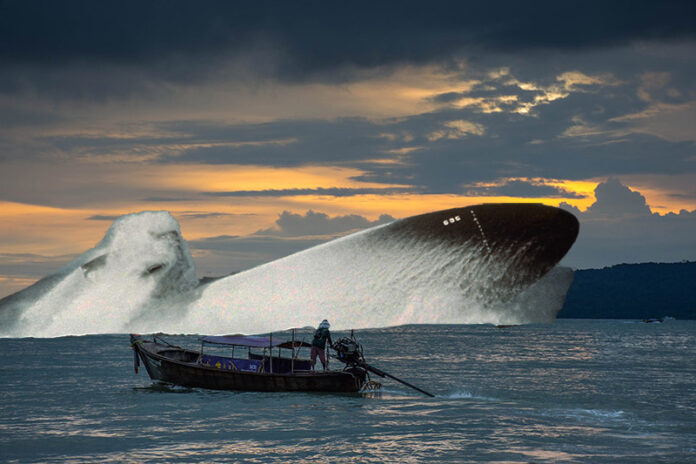 PHUKET — A submarine which surfaced near tourists and cruised off at a good clip just off the coast of Phuket did not belong to the Royal Thai Navy, a defense spokesman said Monday.
Though the military had yet to publicly identify which nation owned the sub that surfaced in the Andaman Sea close to a tourist boat Sunday, the most likely explanation was a joint US-Thai naval exercise being conducted in the area.
Spokesman Kongcheep Tantravanich said it was not a preview of the kingdom's future sub fleet, which it spent 36 billion baht last year to acquire from China but has yet to receive.
"I can confirm it's not our submarine. They're not here yet," Kongcheep said.
The video was first posted to Facebook page called Big Grian with a caption indicating it was filmed around Phuket.
"This is not something we see every day," the person who filmed the video can be heard saying in the clip. "Maybe the submarine we ordered has arrived, and they are test-piloting it in Phuket."
Kongcheep added that he would look into the submarine's identity, but suggested it could not have entered the waters without the navy's authorization. Asked if the submarine could have belonged to the Americans, he responded, "Really?" and promised to look into it.
The vessel's profile appears similar to a Los Angeles-class attack submarine, which the US Navy announced it had committed to the exercise along with guided-missile destroyer USS Halsey and P-8 Poseidon aircraft. The US Navy news release said "Thai assets include helicopter carrier HTMS Chakri Naruebet, Khamronsin-class corvette HTMS Long Lom, Naresuan-class frigates HTMS Taksin and HTMS Naresuan, and an S-70B Seahawk helicopter."
Called Guardian Sea, the joint drill which ran Wednesday to Sunday was centered around antisubmarine warfare.