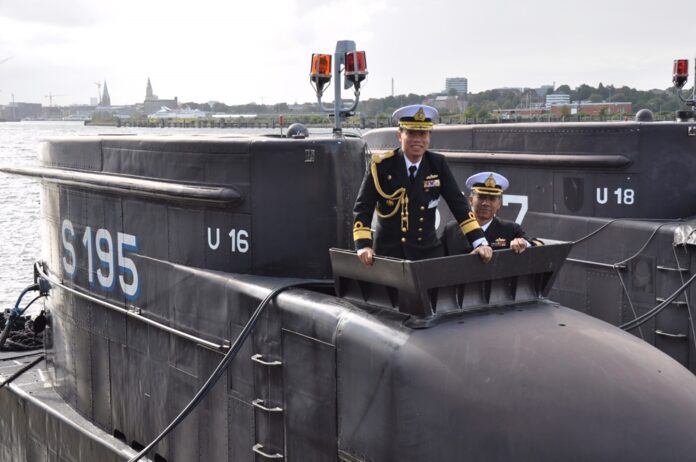 BANGKOK — For seven years, Adm. Suriya Pornsuriya commanded a submarine division which didn't have a single submarine.
Throughout his navy years, Suriya said he saw the government flirt time and again with buying subs from countries such as Germany, Sweden, South Korea and Russia. Those attempts ended in failure.
"It's the dream weapon of every naval officer," Suriya, now retired at 61, said in an interview at his home.
On a wall of the living room where he spoke, there's a photo of him in a navy uniform grinning from the deck of a German submarine. Suriya was hoping his government would buy it. They didn't.
But the jinx came to an end three weeks ago, when the Cabinet approved commissioning three submarines from China. It was Suriya and his team who studied and recommended the plan to the armed forces. Government leaders said they expect the first sub to be delivered in five or six years.
The announcement did not sit well with many. The price tag for the submarine fleet – said to be 36 billion baht – invited criticism over the lack of transparency in the purchase and their necessity in an era in which some say a regional conflict is almost unthinkable.
The criticism was so widespread that the navy top brass felt compelled to convene its first official news conference about the submarine deal on Monday, while junta chairman Prayuth Chan-ocha said the media should stop making a fuss over the multibillion-baht deal.
In an exclusive interview days before the navy would make its case, the man once at the helm of the submarine program dove into these and other contentious questions, from whether they work in shallow gulf waters to why Chinese subs were a better investment than schools and hospitals.
The Hunt for Submarines 
Thailand used to have submarines. In 1937, it bought four vessels from the Empire of Japan, then a growing military power. They were decommissioned in 1951 after the navy tried – and failed – to topple the army-led government.
For nearly seven decades since, the Royal Thai Navy has been unable to reclaim its glory. In 1995, it scrapped a nearly done deal to buy two from a Swedish manufacturer after allegations of corruption were raised. A 2011 plan to buy a "second hand" fleet from Germany at a relatively low cost of 7 billion baht was shelved after the public complained they were unnecessary, Suriya said.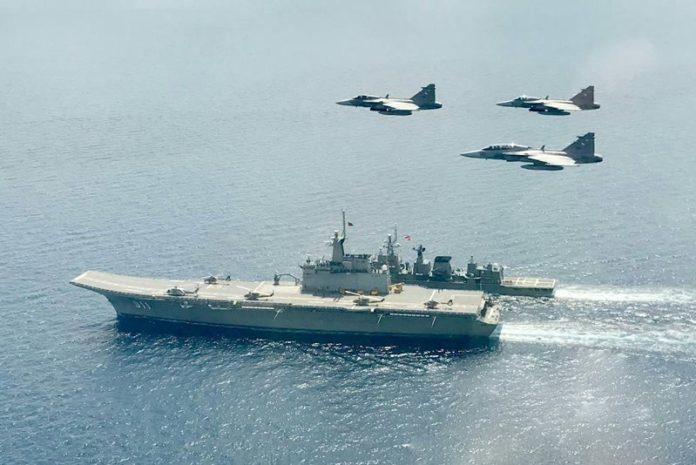 "It's as if there was a curse on us," said the retired admiral, who worked in weapons research and acquisition before taking over the submarine program. "Every time we tried to buy a submarine, there was always a problem that prevented us from doing so."
It was in August 2015, two months before he retired, that Suriya and his crew submitted their proposal to commission three Yuan-class submarines to naval command. Top brass spent the next year and a half convincing the junta to approve the purchase. It did so in secret on April 18, news of which only surfaced a week later.
Why go to such lengths to acquire new submarines? Suriya said their stealth, high-tech weaponry and mobility made them crucial assets to the navy's strategy for maritime defense.
To make the point, he recalled an exercise he completed with other cadets at the naval academy. In the simulation, a neighboring country fell out with Thailand and sent its forces to blockade the gulf, a major sea lane relied on for trade and its natural gas deposits.
The cadets were to come up with a plan to break the hypothetical blockade. The only way to answer correctly was to include submarines in the imaginary deployment.
Who Are We Fighting? 
But Thailand is not at immediate risk of confrontation with any country, and there has not been open conflict war between ASEAN nations for decades. So is the scenario far-fetched? Or, as is frequently asked online, who are we fighting?
"Why does the state have to buy tanks, armored vehicles or submarines? I never saw a weapon in our armed forces actually being used in a fight with anyone," former police commissioner Seripisut Temiyavet said in a widely shared video.
Suriya accepted that there was no imminent combat need for the submarines, but said such thinking was "short-sighted."
"When the armed forces buy weapons, we base our need on uncertainty," Suriya said. "We may be friends today, but what if one day our interests conflict with each other, and we have a falling out?"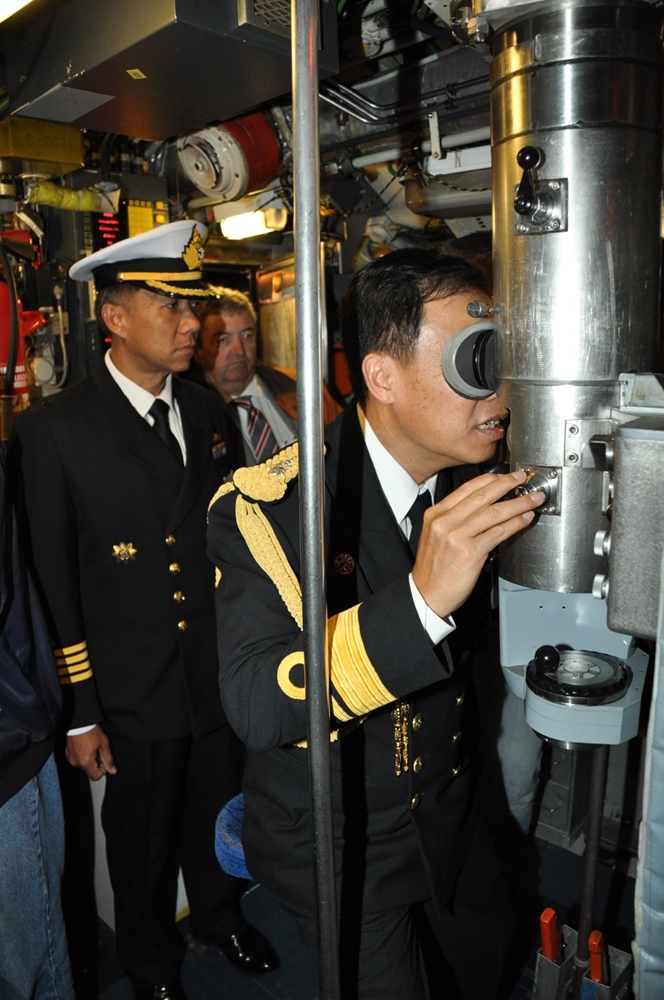 Although he acknowledged Thailand's long alliance with the United States, Suriya pointed to the Americans' reluctance to intervene on behalf of the Philippines when the latter got into a spat with China over the South China Sea.
"The U.S. look to their own interests first. If the interest is not enough for them to intervene on our behalf, they won't," Suriya said. "That's why we must fend for ourselves."
But Surachart Bamrungsuk, who teaches international security at Chulalongkorn University, said it's not enough just to imitate the tactics of neighboring countries.
Four ASEAN nations have submarines: Indonesia, Singapore, Malaysia and Vietnam. Three use them to patrol their archipelagos, while Vietnam needs them for its territorial disputes with China.
"Each country has different strategic requirements," Surachart said.
Another common criticism is the viability of submarines in the shallow Gulf of Thailand, which only averages a depth of 50 meters. In a televised speech for his 80th birthday, King Bhumibol, who died in October, joked that if the navy had submarines they might get stuck in the mud off the coast.
Although the late king later went on to say in the same speech that the armed forces should acquire any weaponry they need – provided they can afford it – media commentators and opposition politicians have seized on the late king's remark during the past week to make their point.
But Suriya said the Gulf of Thailand shares the same average depth as the Baltic Sea, a site of major submarine battles during World War II. Submarines have operated in the gulf in the past, he said.
"To say the Gulf of Thailand is too shallow is purely imagination," the admiral said.
'An Offer We Couldn't Refuse'
But even those who agreed the submarines were needed might be skeptical of buying them from China, whose reputation for industrial quality is subpar to Western manufacturers.
Suriya said he didn't seek out China. After the navy allocated a budget of 36 billion baht, the submarine procurement team notified major firms around the world, Suriya said. Firms in Germany, France, Sweden, South Korea, Russia and China replied with proposals.
While five manufacturers said they could only provide Thailand with two submarines for the price, a Chinese company offered up three Yuan-class submarines. They are successors of Song-class vessels, one of which famously caught a U.S. aircraft carrier group by surprise in 2005.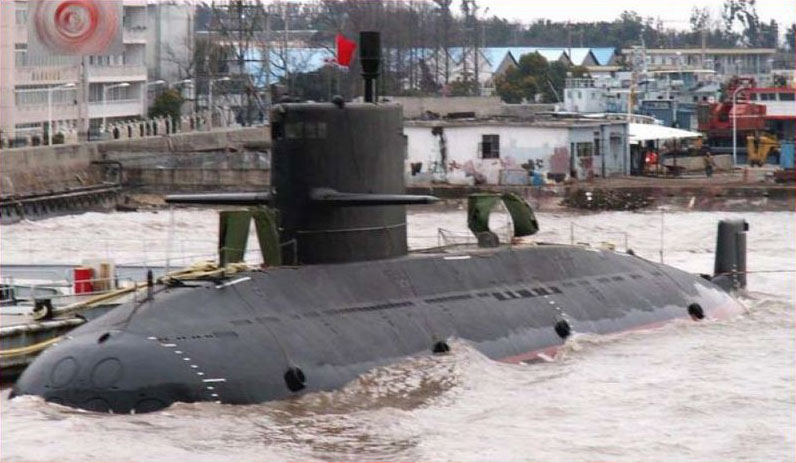 "The offer of three ships immediately swung the decision," Suriya said. "It was an offer we couldn't refuse."
Suriya acknowledged the Yuan-class subs aren't the best in the world; for example, he said they are slower to maneuver than their Western counterparts.
"In our feeling, the Western submarines are more credible," the admiral said. "But it's difficult to say. The Chinese themselves probably know that their ships alone couldn't compete with those from the West. That's why they offered us three subs for the price of two."
The Chinese also charmed the Thai navy with an armaments package Western firms can't match. Without hesitation, Suriya broke it down: anti-ship missiles, torpedoes, an optronic mast, enhanced engines that allow up to three weeks submerged cruising, and tube-launched missiles that can strike targets up to 300 kilometers inland.
But the crown jewel, Suriya said, were the smart mines, which can be planted deep underwater, making them difficult to detect. They can be used as either defensive or offensive measures to mine enemy harbors.
"The West would never sell us smart mines," Suriya said. " They are aggressive weapons for an offensive war. They are afraid some nations might use them in wars with each other."
So why would Thailand need them?
"A strategy of deterrence," the admiral replied.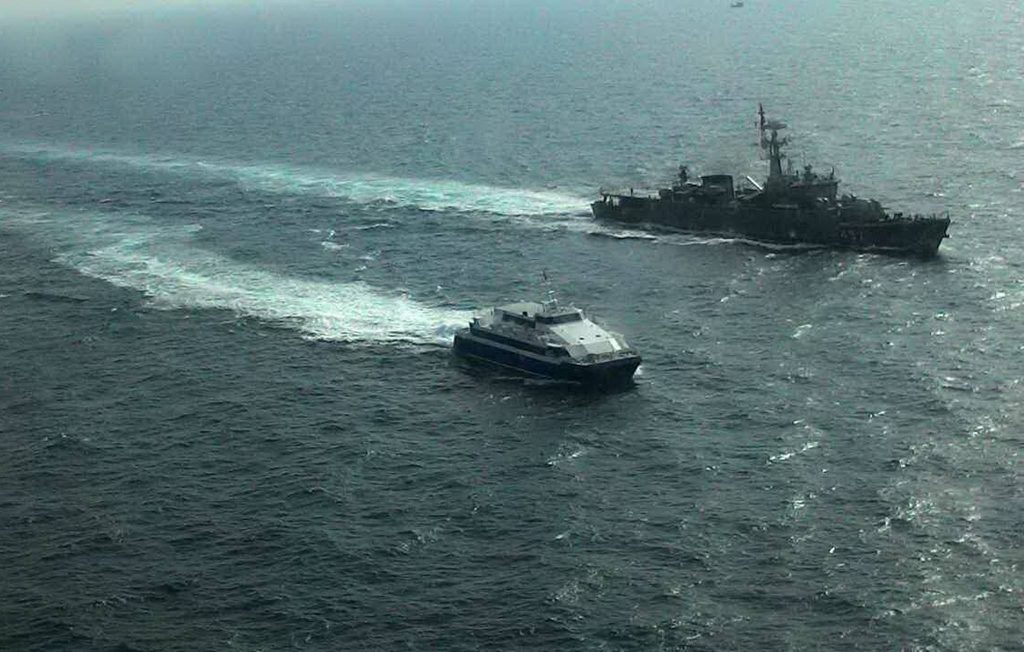 Unlike the United States, which closely guards its weapon technology, the Chinese risk possible reverse-engineering by allowing Thai technicians to dissemble and study their military hardware, he added.
However, professor Surachart said submarines aren't as vital to Thailand's maritime defense as claimed by the navy.
"I don't think we are at a level that needs submarines," Surachart said. "Surface ships such as frigates can also perform operations in the seas, including anti-submarine warfare."
Subs vs. Hospitals 
Another common complaint aired by those critical of the junta's submarine acquisition is the huge amount of money involved, which they say could have been used to improve ailing infrastructure.
For a comparison, building a hospital generally costs between 2 billion baht and 6 billion baht. Just last year, the government approved a budget of 5 billion baht to revamp and improve existing state-owned hospitals throughout the country.
Among those to voice this concern was former Prime Minister Yingluck Shinawatra, who wrote on Facebook that the junta would have benefited the country better if it had spent the submarine funds on health and agriculture.
"Gen. Prayuth has been running the country for three years now, but we still see economic problems," Yingluck wrote April 27. "Yet, they are spending money on buying tanks and submarines."
Across the political aisle, former Democrat MP Watchara Phetthong also lashed out at the junta for misusing the state coffers.
"Many people don't agree with you [the government] about this," Watchara wrote online. "They should suspend it and transfer the 13.5 billion baht to build hospitals or improve Thailand in other ways."
Suriya, the submarine program head, disagreed with such remarks. He said the 36 billion baht was allocated solely for maritime defense and not infrastructure.
"The funds are allocated in different areas. They are not related to each other," Suriya said. "If you say we should slash the defense ministry and give the money to the public health ministry, then just abolish the armed forces."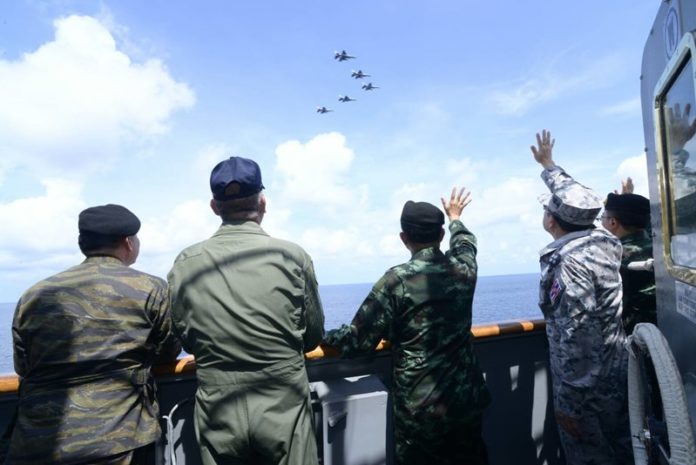 While Surachart, the Chulalongkorn security expert, agreed that a substantial amount of public funds should be spent improving the armed forces, he believes Thailand would be better off developing counterterrorism measures, and not acquiring hardware such as tanks or submarines.
"It's now accepted that the new type of warfare, both in present time and the future, is terrorism," Surachart said. "Currently, the government has not invested in this sector as much as they should."
During the interview, Suriya also appealed to forging stronger ties with China, as he said the deal would prove the two nations are now close allies.
Suriya recalled a 2006 trip to China with Prawit Wongsuwan, now defense minister and deputy junta leader, during which the pair expressed interest in the Song-class submarines. The Chinese navy commander reportedly refused to sell them because Thailand was an ally of the United States, and therefore, a potential danger.
"Selling submarines is a unique relationship. There has to be a mutual trust for the deal to happen," Suriya said.
Correction: An earlier version of this article misspelled Adm. Suriya's surname. We regret the error. 
Related stories
Prawit Tours Submarine Pen Site, Defends Need to Buy One
Thai Navy Petitions Govt to Buy Submarines
Thai Commander Welcomes New Submarine Centre, Despite Lack of Subs
Navy Renews Bid For Chinese Subs
Thailand's Top Brass Defends Plan to Spend 36 Billion Baht on Submarines