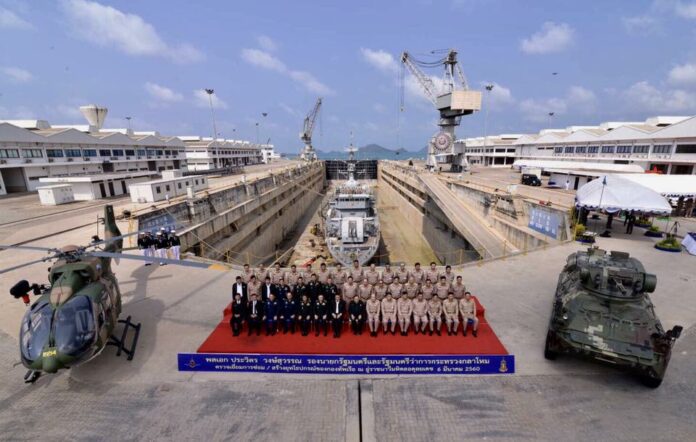 CHONBURI —Deputy junta chairman Prawit Wongsuwan on Monday toured the site where a submarine pen will be built in Chonburi province.
He posed for photos with top navy brass where the state-of-the-art facility will be built not far from the Royal Thai Navy's submarine warfare center.
When the pen is completed, all that will be missing is a submarine.
If a deal goes through to purchase one from China, a defense spokesman said today the navy will have to wait at least six years to take possession of its first sub since they were taken away in 1951 following a failed coup attempt.
"If we are to buy one, we must get approval from the Cabinet first," Maj. Gen. Kongcheep Tantravanich said. "And after that, construction will start. It will take six years. If we want to buy a second or third one, we will have to plan in advance, too, because it takes six years to build each one."
Kongcheep said he does not know when the matter will be approved by the Cabinet; the matter is not on the agenda of today's weekly meeting, he said.
In Monday's press tour of the Mahidol Adulyadej Naval Dockyard, Gen. Prawit did not go deep into details about the submarine acquisition plan, such as when it will be bought or when the pen will be built. He maintained that the military needs submarines to defend Thailand's coastlines from unspecified threats.
Talk of buying a submarine has been ongoing for years and is routinely met with criticism over the cost and necessity.
"We were criticized every time, and in the end we didn't get to buy it," said Prawit, who serves as Minister of Defense. "I insist that we try to do everything that's best for the country."
Last year the military announced plans to buy a Yuan-class submarine from China for 12 billion baht, but the Cabinet has yet to approve the deal.
Related stories: