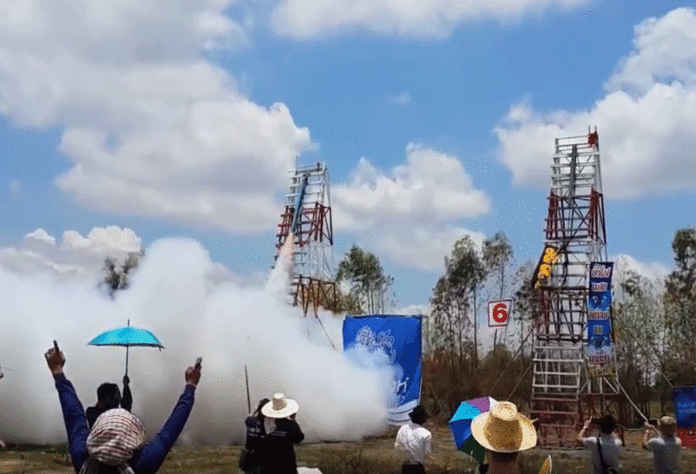 KHON KAEN — Eighty-five villages have obtained permission to launch rockets into commercial airspace above Khon Kaen during an annual festival, the airport authority announced Thursday.
With traditional rocket festivals in the northeast beginning this month, the director of Khon Kaen airport said all district chiefs have been notified to inform the authority when and where a rocket will be fired into the sky to avoid striking any airplanes.
"We need the information so that air traffic control will be able to inform the pilots of every airline," director Atthaya Lapmak said. "Any village wishing to shoot rockets has to ask for permission from their district officer beforehand."
He added that 89 communities in the province have sought a green light for launch this year, with 85 of them receiving permission. More than 1,500 rockets are now scheduled.
The firing of rockets, an ancient agricultural and fertility rite to welcome vital monsoon rains, has nearly caused several aviation accidents. The Aeronautical Radio of Thailand, which manages air traffic, reported last year that such rockets have reached as high as 11,000 feet (3,300 meters). A rocket was once spotted streaking a mere 30 meters from an airplane in 2016.
Those who violate the rules face jail time of up to three years and a maximum fine of 60,000 baht. If the acts damage any aircraft, the offending party could be jailed for 20 years and fined 800,000 baht.