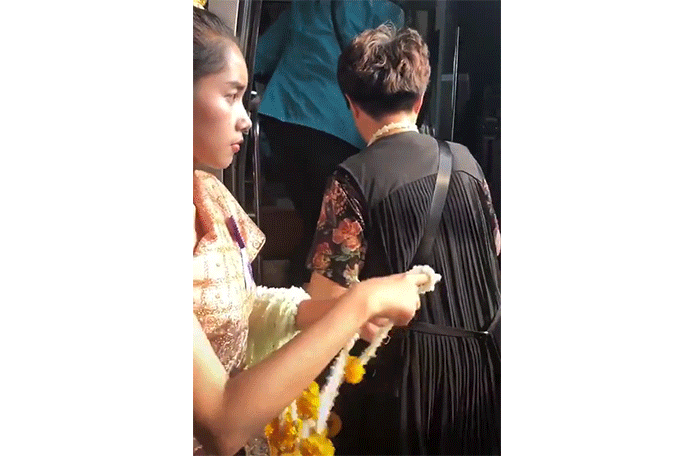 BANGKOK — Thais like to call their country the "Land of Smiles," and the authorities sometimes go to great lengths to protect that image.
On Wednesday night, Tourist Police summoned a woman to wai in apology in front of the media for committing a cultural crime: not smiling when she sloppily slung garlands onto Chinese tourists at a Bangkok airport, an unwelcoming act that drew attention – and parody – on Chinese social media.
"She was lectured, advised and reprimanded. We also told her to apologize," Tourist Police commander Surachet Hakpan said today, without naming her. "She repented her action. The owner of the company she worked for also apologized. This issue is about being a good host."
According to Surachet, the woman was employed by Taweesit Express Ltd. as a hostess. The job required her to dress in traditional costume and give jasmine garlands to a group of Chinese tourists at Don Mueang Airport. She posed with each tourist for a quick photo.
But a video of the welcoming ceremony, which Surachet said "took place many days ago," shows her tossing the flowers onto each tourist with a stern face, only to offer a half smile for the brief moment the camera flashed.
Her demeanor spawned parodies on a Chinese video app called Tik Tok, which later were mirrored on Facebook where they reached Thai netizens, Surachet said. In one video, a Chinese woman stood in for the hostess, smiling brightly when the "guest" presented her with some cash.
A popular comic satirist jumped in on the controversy by suggesting that the woman could learn about manners from a senior police commander who stooped and gave a humble wai to a billionaire accused of poaching wildlife.
The hostess, who wore a mask to the news conference and did not give her name, said she's sorry.
"I'd like to apologize to everyone for what I did," she said, before ending in a wai.
Although such acts of contrition are usually reserved for criminal suspects, Surachet said she will not face any charge. He also urged other tour companies to take it as a warning.
"Thais must serve as a good host," the commander said. "They have to be kind to visitors."