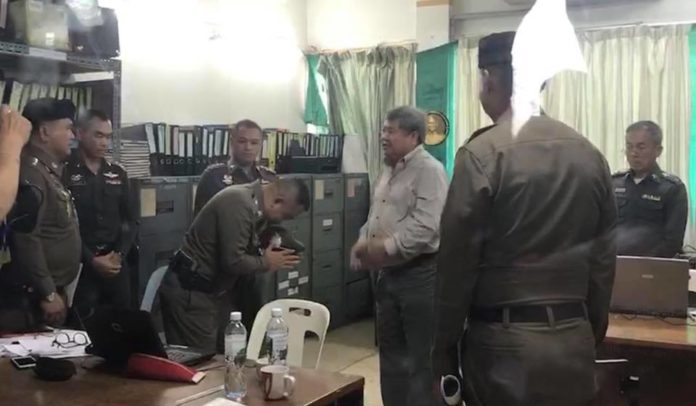 BANGKOK — The junta No. 2 on Thursday rejected calls from online critics to have the top investigator in a high-profile poaching case replaced.
While the public has turned to social media to accuse Srivara Ransibrahmanakul of showing leniency toward the executive of a major development firm charged with killing a black panther in a protected forest, a deputy junta chairman described the police general as reliable and "straightforward."
"Srivara works well. He has been working well in the past, and he's a straightforward person," Gen. Prawit Wongsuwan said. "Right now there's no replacement plan."
Premchai Karnasuta, president of Italian-Thai Development, is charged with 12 offenses for reportedly poaching wildlife in a protected forest on Feb. 5 and owning lands that encroach into a national park. In recent days police also charged him with possessing illegal firearms and imported ivory.
The killing sparked widespread anger, not only for the slain animal but also because police appeared to follow a timeworn pattern of slow-walking the case against Premchai as they have in other investigations of the wealthy and the powerful.
Their fury was mostly directed at Srivara, who on Friday was seen bowing deeply to wai Premchai in an overtly humble manner.
Srivara, who holds the rank of deputy police commissioner, also placed the ranger that arrested Premchai on Feb. 5 under investigation for possible malfeasance and ordered a low-ranking policeman be punished for filing a charge of animal cruelty against the billionaire.
By Thursday, "#WeDontWantSrivara" was among the top-trending hashtags on social media.
"Since the existing evidence can't do anything, just replace him," wrote one thread using the hashtag, which has been shared more than 46,000 times as of publication time. "It might be at the point where we must call for Srivara to be taken off the black panther case."
On the same day, transparency activist Srisuwan Janya filed a petition calling for Srivara to be placed under disciplinary investigation for punishing the junior investigator.
But instead of calling for Srivara to be replaced, Srisuwan said he preferred to see the Department of Special Investigation take the lead in the subsequent investigation.
"I don't want Srivara replaced. I want the team responsible for the case to be replaced, from police to DSI," Srisuwan said in an interview, citing the complexity involved in pursuing the case. "I think they need the resources that DSI has."
Premchai remains free on bail. He's due to report to police for additional charges of ivory possession by March 14.
At a news conference today, Srivara said Premchai's lawyer can postpone the meeting if he has reasonable cause. He also said he doesn't know where Premchai is. When a reporter asked what police would do if Premchai leaves the country, Srivara replied: nothing.
"When he goes to places, he doesn't tell me. I only told the Immigration Police to alert me if he goes abroad, but he's not obliged to report to me," Srivara told reporters. "Only the court has the authority to detain someone, not investigators."
He added, "I cannot violate his rights, and the media cannot violate his rights either."
Related stories: