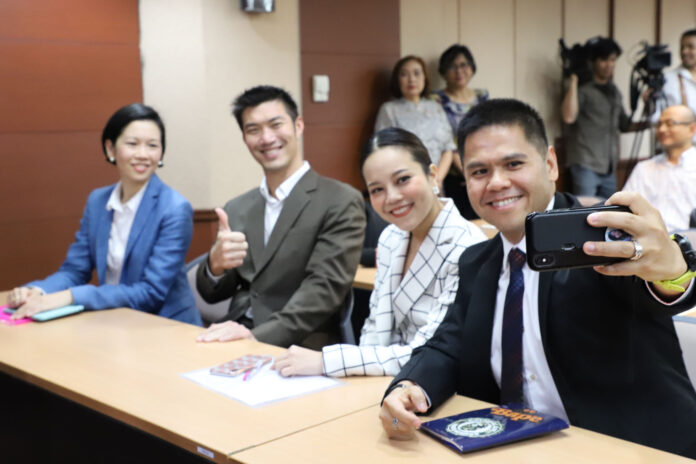 BANGKOK — Figures from three political parties said their first move as prime minister would be to amend the 2017 junta-sponsored charter.
Representatives from the Pheu Thai, Chart Thai Pattana and Future Forward parties agreed that changing the charter, which enshrined military authority over civilian, is a top priority for the new civilian government they hope to lead after elections are held.
Varawut Silpa-archa, de facto leader of Chart Thai Pattana Party, said it would be his goal were he to serve as prime minister for even a day.
"The most important thing today is to have a rightful constitution," Varawut said. "So if I could become a PM for a day, I would appoint a charter drafting assembly."
Varawut was speaking Friday at a Thammasat University forum on the future of Thai politics for Pridi Banomyong Day, which recognizes the democracy icon and university founder. Pridi helped lead the revolt which ended absolute monarchy and introduced parliamentary democracy in 1932.
While reps from the Pheu Thai and Future Forward parties took the same position as Varawut, Ratchada Thanadirek of the Democrat Party said the public could put up with the junta-sponsored charter.
"On the charter, we can put up with it no matter what, even though it's not democratic," said Ratchada, a former Democrat MP. "We had 20 charters in the past."
Thanathorn Juangroongruangkit, leader of newly founded Future Forward Party, said the 2017 charter, entirely written by drafters selected by the junta, should simply be abolished.
Thanatorn said the charter was written in a way that it's almost impossible to even amend, so it can only be abolished when there's demand for a new and democratic constitution.
"The biggest problem now is having an undemocratic constitution," he said. "If we believe that the sovereign power belongs to citizens, we must believe that we need to draft a democratic constitution."
Kattiya Sawasdiphol, a Pheu Thai former MP, said amending the constitution was the most important and pressing issue if she became prime minister.
"We may bring back the 1997 charter," said Kattiya, referring to that considered Thailand's most democratic.
Kattiya said it's imperative the constitution not limit basic rights and liberties.
In a sign that politicians are becoming more bold, the four reacted strongly to deputy junta leader-cum-deputy Prime Minister Gen. Prawit Wongsuwan's remark earlier this week that 70 million Thais – basically all the population – do not want elections yet, despite demands by pro-democracy protesters for a vote.
Ratchada, the Democrat, said Prawit was divorced from reality.
"It said it in accordance with his views that don't dwell in the world of reality," she said.
Varawut said he wants to see general elections in 2019 and not the election of generals.
Kattiya meanwhile said the longer the junta stays in power, the more the public can see if they can properly govern.
Thanathorn meanwhile said he's against a further prolonged stay in power for the coup leaders, as much damage has been incurred in the past four years.