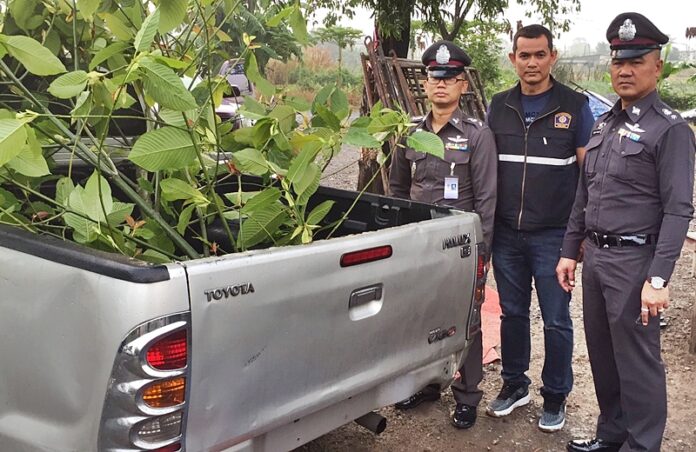 BANGKOK — The nation's top anti-narcotics official said he will propose the interim parliament amend the law to allow personal use of an herbal stimulant widely consumed in the south.
The proposal to decriminalize kratom is part of an ongoing effort to loosen drug laws, Narcotics Control Board sec-gen Sirinya Sitdhichai said in a Thursday interview. When the measure goes into effect, anyone can legally grow and chew leaves of kratom, an upper that stimulates the nervous system.
"We will propose legalizing chewing of kratom leaves, in accordance with the traditional way of living," Sirinya said. "In the old times, people chewed kratom to get energy to go to work in the field. But we will not allow people to brew kratom or mix it with other drugs."
His announcement came days after the cabinet greenlit reform of drug laws to permit, for the first time since cannabis was outlawed nearly a century ago, cultivation and human consumption of the plant for medical purposes.
Though Thailand, then known as Siam, passed its first anti-narcotics laws back in 1922, marijuana was added to list of banned substances in 1935. Kratom followed suit in 1943.
The newly proposed amendments still have to be voted into law by junta-appointed lawmakers, and Sirinya said he does not know when the parliament is scheduled to debate the issue. If they vote in favor, 180 days must pass before the amended law comes into effect.
"I don't think it will be too long before the parliament takes up the issue," Sirinya said. "Because this is an important matter. It will bring many benefits to the public."
The present push to reform the drug laws follows years of calls from entrepreneurs, activists and health experts who believe the public has the right to use cannabis for medical treatment and research.
Those advocacy efforts appear on the verge of bearing fruit. Sirinya said the proposal will not only permit human use of marijuana in the lab, but patients will also be allowed to take cannabis as medication if prescribed by their physician.
"Patients will be able to use the narcotic plant as treatment," he said. "There has been a trend about this in other countries. It is being used as medicine. We have also conducted research about this for some time now."
The Public Health Ministry will be tasked with granting permits to those who wish to grow marijuana for medical researches, Sirinya added. The applications will be deliberated by a special committee before going to the health minister for final approval.
Related stories:
Rangsit U Made a Weed Spray, Wants Junta to Legalize It
Thailand to Build First Legal Weed Farm
Thai Law About to Make Medical Marijuana Legal
Thailand's Drug Decriminalization Edges Forward – With Little Fanfare