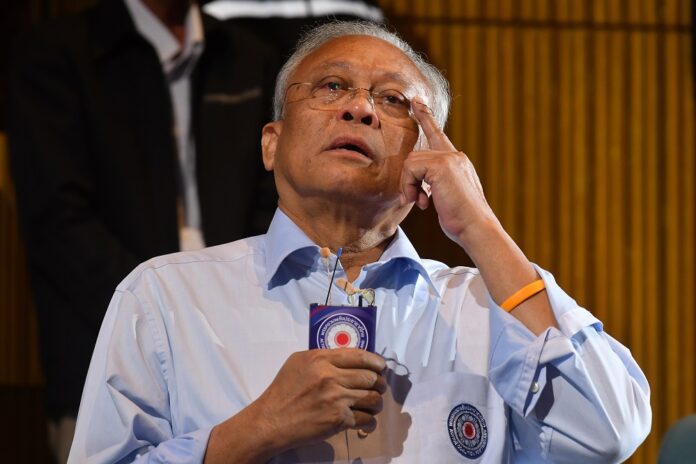 BANGKOK — A new political party of prominent former protest leaders launched Sunday with a vow to oppose corruption and be loyal to the throne.
Members and supporters of the Action Coalition for Thailand Party, or ACT Party, met Sunday at Rangsit University in northern Bangkok to introduced its core ideologies to the press and the public.
Its co-founders include former Democrat Party-turned-protest leader Suthep Thaugsuban, former Yellowshirt coordinator Suriyasai Katasila and academic Anek Laothammatas.
Read: Suthep Takes Higher-Profile Political Role
Beside upholding the monarchy and tackling corruption, the party said it will be the first true political party to belong to the people.
Speaking through tears, Suthep, former leader of the now defunct PCAD, aka the People's Democratic Reform Committee or PDRC, said he had to break his own word not to return to politics after the 2014 coup to "stand alongside" the people.
Suthep, who spoke last at the meeting attended by an estimated 1,000 people, played up the spirit of street protests he led four years that brought down the civilian government.
"The sacrifice of those who slept in the streets. Those who have been shot. Those who were attacked by bombs. Thousands who were injured and dozens who were killed. I would like them to see the picture today, the day we remember them and their sacrifice," Suthep said.
The royalist tone of the meeting was underscored by every speaker stopping to bow before a three-meter portrait of King Rama X before they spoke.
"The proudest thing in my life is to be a subject [of the King] in this land… not being a diplomat," Anusree Tubsuwan, a party spokeswoman, told the audience. "I believe those who are here share the same ideology."
The party, known in Thai as Palang Prachachat Thai (Power of Thai People's Nation) is soliciting 50,000 baht from founding members and 3,650 baht lifetime membership fees from party members. Ordinary members will pay an annual fee of 365 baht.
The party will also use social media to connect its members. Its other ideologies include using the late King Rama IX's sufficiency policy as a principle for national development and pushing for a better environment, balanced and sustainable development.
The party has plans to set up a political school and youth wing.
Speculation that Suthep would helm of the party was denied by party spokeswoman Anusree, who said during a press conference after the meeting that she doesn't believe that Suthep will become the party leader, party executive or take any political appointment if the party manages to form or be part of a new government after elections.
The party plans to meet Sept. 2 to vote for party executives and a party charter.