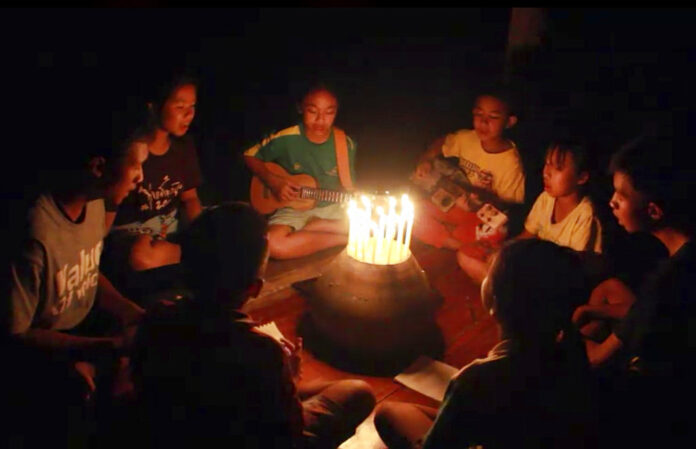 CHIANG RAI — It's a simple melody sung to the plucking of acoustic guitars by schoolchildren sitting around candles: "I beg the skies to show mercy and empathy/ My brothers are in Tham Luang Khun Nang Non/ Let them pass this danger, I beg."
The song is dedicated to events unfolding in a flooded mountain cave in northern Thailand, where 12 boys aged 11-16 and their soccer coach disappeared a week ago. It was written and performed by students at Lek Nai Tung Kwang school across the country, in Buriram province.
The music video has played on national newscasts during round-the-clock coverage of the search and rescue operation at the Tham Luang Nang Non cave in far northern Chiang Rai province. It is part of an outpouring of hope, empathy and concern across Thailand for the boys, their families and the army of people working to bring them home.
เพลง วอนแม่นางนอนเนื้อร้อง/ทำนอง/เรียบเรียงโดย…เด็กๆโรงเรียนเล็กในทุ่งกว้าง 21.30 น.หนูวอนเถอะฟ้าให้เมตตาเห็นใจ พี่หนูอยู่ในถ้ำหลวงขุนนางนอนให้พี่ผ่านพ้นโพยภัยหนูขอวอนหนูสวดมนต์ขอพรให้แม่นางนอนเมตตาหนูวอนเถอะฟ้าโปรดเมตตาหนูบ้างให้แสงทองส่องทางให้ฟ้าสางกระจ่างใสให้หมู่มวลมิตรได้พ้นผ่านโพยภัยได้กลับบ้านเร็วไวให้ปลอดภัยทุกๆคนโรงเรียนเล็กในทุ่งกว้างขอเป็นกำลังใจให้พี่หน่วยซิลและทีมงานทุกท่านพาพี่ๆหมูป่าเดินทางกลับบ้านอย่างปลอดภัยในเร็ววันด้วยเถิด พี่ๆคงหิวข้าวมากแล้วหนูรอพี่อยู่กลับบ้านเถอะนะค่ะพี่ สุาธุ สาธุ สาธุhttps://www.youtube.com/channel/UC5rfcvnNtMbTM8BLbas3Byg?view_as=subscriber&pbjreload=10

โพสต์โดย โรงเรียนเล็กในทุ่งกว้าง เมื่อ วันพุธที่ 27 มิถุนายน 2018
"We're worried. Everybody wants to hear good news," said Keeta Wariburee, a teacher at the school that produced the video. "We want to help them, but if we went up there we'd probably just get in the way. So we're doing what we can by sending encouragement."
Rescuers including elite Thai navy divers, a U.S. military team, British cave experts and Australian and Chinese lifesaving responders have been frustrated by incessant rain that has flooded the cave and made locating the boys more difficult. A break in the rain over the weekend eased flooding in the system of caverns, but pumping out water hasn't solved the problem and the attention focused on finding shafts on the mountainside that might serve as a back door to the blocked-off areas where the missing may be sheltering.
In a desperate move, officials dropped into the shafts care packages stuffed with food, beverages, a phone, a flashlight, candles, a lighter and a map of the cave.
In a country that has been deeply divided by political strife and remains under military rule following a coup four years ago, the sight of mud-caked soldiers and volunteers working in pouring rain has filled Thais with both pride and a sense of common cause.
Lamduan Mayula traveled to the cave from Payao province, where she owns a gift shop and also volunteers as a rescue worker. She and her friends have set up a kitchen and hand out food to hungry workers.
"I just feel like I have to do something. I can't be sitting at home and watching the news," she said. "And I will stay here until we and the boys and their coach can all go home together."
In signs of solidarity with the missing, students around Thailand have been organizing mass prayers and other events. They have showed solidarity by sitting in rows to form the number 13 — the number of the missing. Some have folded origami paper cranes marked with messages of support.
Muangthong United, one of the largest and most popular teams in Thailand's top soccer league, made a similar gesture, releasing a video in which players and staff stand in the middle of their stadium, holding hands in a circle around soccer balls forming the number 13.
In a post on his Facebook page this April, Eakapol Chantawong, the missing coach of the boys' Wild Boars soccer team, checked in at the stadium and wrote, "One day I have to bring my young players here."
A number of hashtags have taken off on social media, including ones that translate as "13 lives must survive," "Sending encouragement to Tham Luang" and "Strangers whose faces we most want to see."
Emotional drawings and pictures have been making the rounds as well. One shows rescuers in a dark cave with "13 Hope Don't Give Up" written on their oxygen tanks. Another displays the silhouettes of 12 boys and a man against the stalactites of a cave with the words: "Stay strong. We are coming." Another features the team riding on a large wild boar and says, "Wild Boars keep fighting."
Keeta, the teacher, said the popularity of his students' song was a sign of the nation's common purpose.
"It reveals one thing, which is Thai society, in tough times, we never abandon each other," he said. "But it would be even better if the kids are found."
Or as his students' song ends: "Let the skies show us the path and clear up/ Let this group of friends pass this danger/ To quickly go home for safety to all."
Story: Kaweewit Kaewjinda, Tassanee Vejpongsa