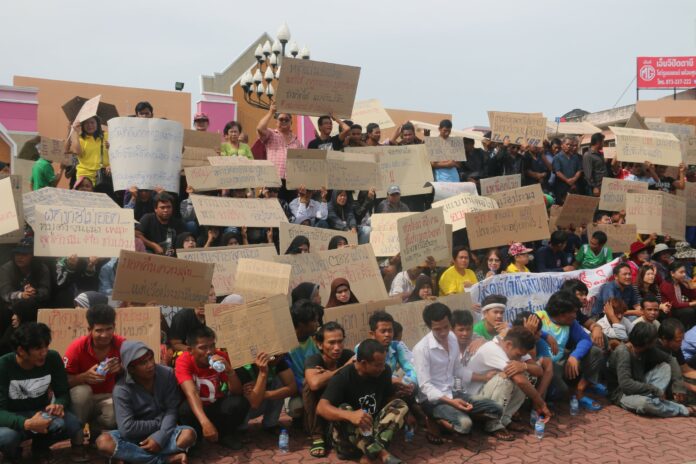 BANGKOK — Thai fisherman Wednesday threatened a national strike next week if the government adopts international regulations they say will severely damage their industry.
The National Fisheries Association in 22 provinces today petitioned their provincial government offices against the ratification of a year-old labor convention adopted by the International Labour Organization, a UN agency. They also asked the government to reconsider other recently introduced regulations.
If the government does not respond by Aug. 8, the fishermen will protest by docking their boats and petitioning the king, representatives said.
Surasak Jimapan, deputy chairman of the association in Ranong province, said the industry would be harmed as most boats could lose their licenses due to violations of the convention's rules, while foreign fishing boats would gain easier access to Thai waters.
The regulations require noncompliant boats be refitted to basic standards of hygiene and safety by providing facilities such as one toilet for every four people as well as rest and recreational spaces for larger vessels. Space must be made available for people who become ill and sleeping areas must be located in a safe, heated part of the ship.
Thailand has spent years trying to repair its image after damning reports of slave-like working conditions emerged. In 2015, the EU threatened to ban Thai seafood if it didn't fix those and other illegal industry practices.
Chit Sriklam of the Pattani association said the rules are impossible for local fishermen to follow, as they were drafted in support of larger, automated vessels that do not require as many workers on board, while Thai fishing boats rely heavily on human labor.
He said the regulations would force them to rebuild their boats, mostly made from wood, and increase the risk of capsizing.
Representative of Songkhla association Niwat Bilduan said many other regulations enforced by the government to improve the industry in recent years are not in line of the fishermen's livelihood, and have forced up to 70 percent of local boats to cease operation.
In April, Pattani fishermen held a strike to protest new labor laws said to help crack down on illegal fishing boats that perpetuated labor abuses.
On Tuesday, junta leader Prayuth Chan-ocha said the government could not be threatened by such actions since its their duty to make sure that everything is running in line with the law.
"We're not just trying to please whoever without thinking of Thai people," he said. "We have to consider both our own laws and international laws, since our market relies on foreign countries."