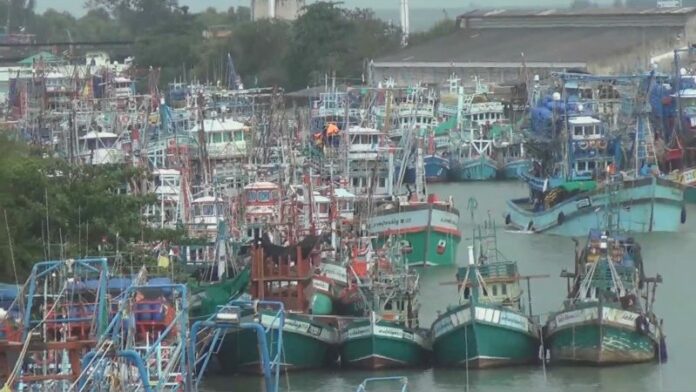 PATTANI — Thousands of boats docked at a southern provincial port Monday to protest new stringent labor laws requiring employers keep track of worker's ATM slips.
About 3,000 boats of various sizes docked at the Pattani Port in a show of force against labor laws they say prevent them from doing their jobs, while officials say the laws are necessary to protect human rights in an industry stained by human trafficking and forced labor.
"We're not protesting. We're afraid to go out to sea for fear of breaking the law," said Phubest Chantanimi, president of the Pattani Fishery Association. "Why did you make these laws? How does they solve any problems? When they make laws, they never come to discuss anything with the fishermen."
Among the new labor laws that came into effect this month was one requiring all boat workers to have a bank account and ATM card. Every time an employee uses it to withdraw money, they must hand a receipt to their employer to go into a report to local marine and social security officials.
"I already bank accounts for my men. But how am I gonna keep track of when they use the ATM? I have so many, and it's not like they always keep the receipt," Phubest said.
The new laws were made in an effort to crack down on the illegal, slave-like labor conditions on fishing boats that have drawn international condemnation, a local official said Monday.
"This is about human rights and justice. We need to see evidence of what happens between the employer and employee on the fishing boats," said Hirunwat Seubkapan, a Marine Department lawyer.
Another set of laws that Phubest said is upsetting local fishermen are safety equipment regulations, such as requiring all fishermen to wear life vests while on board.
"They said we have to use brands that the Marine Department approves. We can't just use 100 baht vests from the market, the ones they want are three to four times more expensive," Phubest said.
If a fishing boat does not meet these new regulations upon inspection by officials, the boat cannot go out to sea.
Fishermen have been have similar, but smaller protests in Phuket and Trat to protest the new laws and its punishments since the beginning of April. Monday's Pattani protest had been planned in advanced by local fishermen.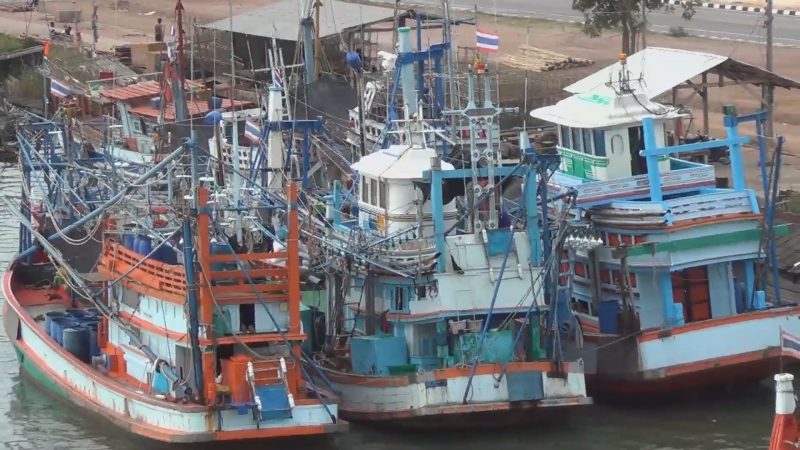 Related stories:
Thai Fishing Fleets Roam Far to Break Rules: Greenpeace
Police Say Fishing Industry Crackdown Intensified
Greenpeace Calls Out Thai Union Group Over Fishing Practices
EU Warning on Illegal Fishing Has Thai Fishing Industry Reeling
Thai Fishing Boats Forced to Dock as New Regulations Take Effect