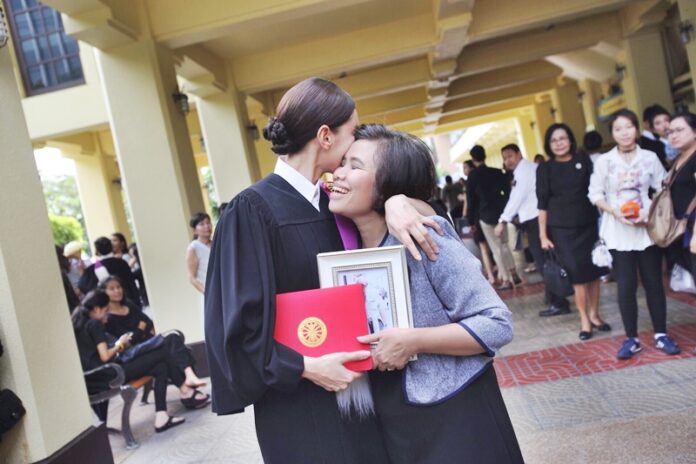 BANGKOK — Forty universities across Thailand announced Tuesday that their year-end graduation ceremonies, over which His Majesty the King is set to preside, have been postponed to April.
Directors of the 40 institutions, which include Thammasat University and 39 Rajabhat colleges, said the changes were made to accommodate a new schedule set by the palace.
"The Royal Household Bureau stated that His Majesty the King has set the date to hand out diplomas for April 7-8, so we will hold the ceremonies on those days," Thammasat vice rector Chalie Charoenlarpnopparut told reporters.
Thammasat's grad ceremonies are typically held in November and December. Chalie said the change would not affect the university's teaching schedules and offered a silver lining.
"One good thing is the ceremony will take place in summer," the vice rector said. "There won't be any worries about rain."
But some Thammasat students are less than enthused to know their big day has been changed from cool breeze of Thai winter to the hottest month of the year.
"What shade of foundation will you have to use, so that your makeup won't slide off in a pile?" one student wrote online.
Thirty-nine Rajabhat colleges and universities will also move their grad ceremonies to next year, according to Sawang Bhupatwibul, an advisor to the rector.
Sawang told reporters that 14 Rajabhat colleges will hold graduations from April 16 to 19, while dates for the rest have yet to be set by the palace.
Asked why the palace postponed the ceremonies, Sawang said no reason was given.
State university commencement ceremonies are typically chaired by members of the royal family, who hand out diplomas to the students.
King Vajiralongkorn has presided over the ceremonies at Thammasat and Rajabhat universities since when he was Crown Prince.