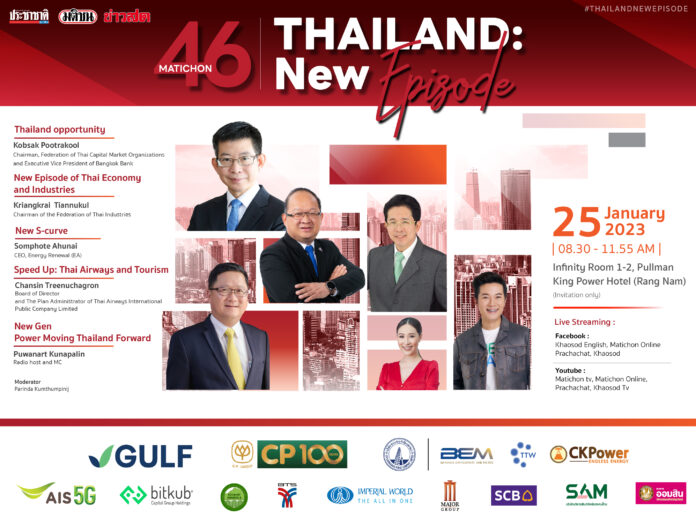 Matichon Group is organizing a major symposium on Jan. 25, 2023 entitled "Thailand: New Episode."
High-profile speakers will explore opportunities and challenges facing the Thai economy. The event, running from 8.30am to 11.55am, will take place at Pullman King Power Hotel (Rangnam), but seats are available only for invited guests.
Former PM Office Minister Kobsak Pootrakool, who is currently the Director and Senior Executive Vice President of Bangkok Bank, will talk about future opportunities for Thailand. This will be followed by Kriangkrai Tiannukul, chairman of the Federation of Thai Industries. Kriangkrai will touch on the future outlook of the Thai economy and industries. Somphote Ahunai, billionaire and CEO of renewable energy firm Energy Absolute (EA) will discuss the new economic S-curve. Chansin Treenuchagorn, chief of Thai Airways' Rehabilitation Plan, will give his thoughts on how Thailand can speed up its tourism industry and the prospect for the national carrier. Radio host Puwanart Kunapalin, the last speaker, will talk about the power of the new generation in driving Thailand forward. The event is moderated by Parinda Kumthumpinij.
The event will be covered live on Khaosod (Thai) Facebook page and will be summarized in English by Khaosod English's Pravit Rojanaphruk.