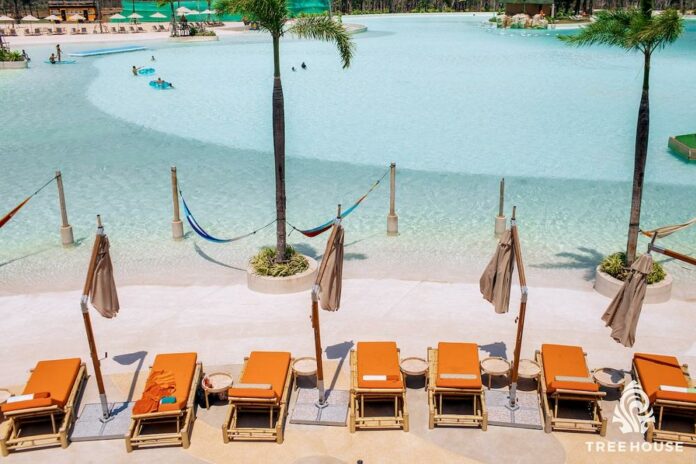 With the slogan 'Entertainment Hub, Thrill & Chill, Day & Night,' Blue Tree Phuket is a hidden-gem destination where you can find fun activities, exciting moments, and challenging ventures. Being an entertainment hub means all-around fun all day and all night. The destination includes health and sport for those who love exercising to come and enjoy the space for free! Blue Tree Phuket also regularly hosts various Asian competitions like the Spartan APAC Championship, Pho3nix Kids Triathlon and I DID IT SERIES. Besides energetic activities, international cuisine is a must-try here as well. It's truly an entertainment hub which combines fun things to do, health and sport, the savory world, safety, and an environmentally friendly concept in one place. Blue Tree Phuket is made for people of all ages.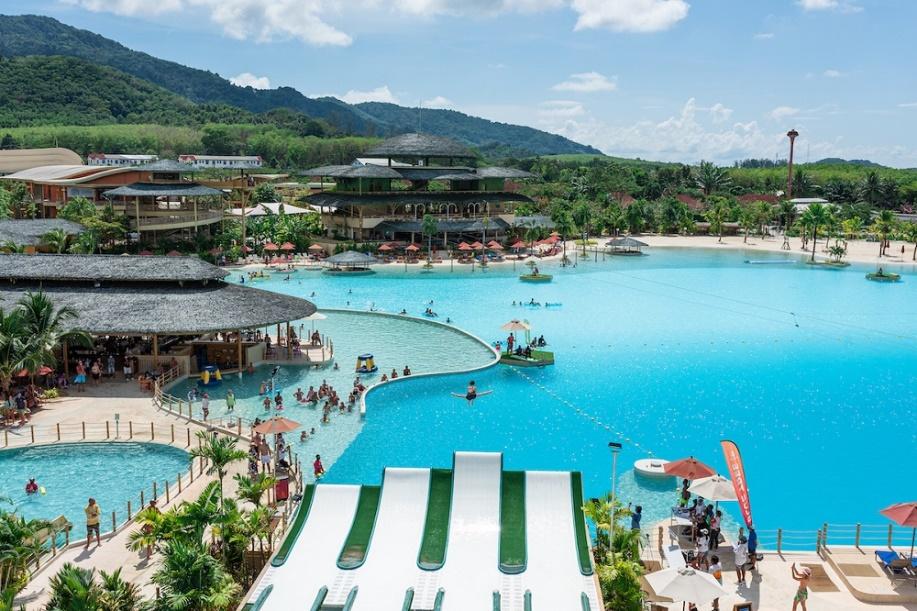 "Blue Tree Phuket is an entertainment hub serving happiness and fun that you can't get bored of," says Mr. Sarot Lertpongworapun Director of Marketing of Blue Tree Phuket. "On our 224,000-square meter area, we have entertainment activities both day and night. Travelers with various lifestyles can find their favorites. Our offers align with the current traveling trend that focuses on finding new experiences. According to the surveys among Thai and foreign travelers*, the trends are similar. Most travelers would love to go to temples and make merit. They also admire cultural traveling. At the same time, Gen-Z travelers have fun in numerous activities, adventurous and challenging things, festivals, and concerts. Blue Tree Phuket can serve all these demands complemented by our environmental focus. This is why the staff at Blue Tree must learn and offer the best possible service."
Blue Tree Phuket is divided into four main zones: Crystal Lagoon, Forest, Arena, and Lifestyle Village. The Lagoon zone utilizes the innovative technology of Crystal Lagoon® to maintain excellent water quality while reducing the use of chemicals, energy, and water. Highlights in this zone are exciting activities such as cliff jumping, zipline, paddleboarding, wakeboarding, underwater scooters, the longest superfly in Thailand, a high dive show, a synchronized swimming show, and a flyboard show from the world-renowned champion performers.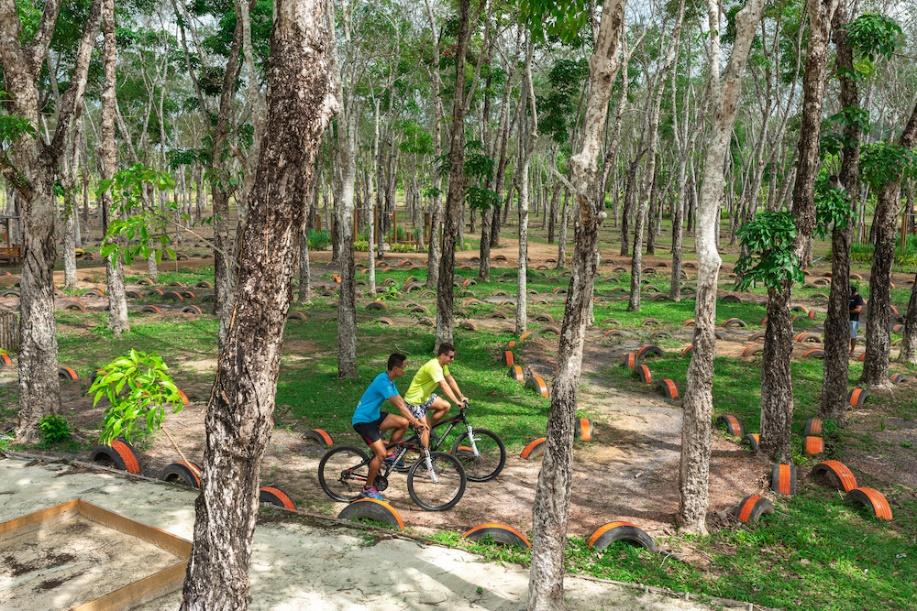 The Forest zone provides a large green space filled with fun activities, such as a mountain bike trail, a surf skate, and skateboard park, a campsite for children, an adventurous forest trail, and challenges for exercise. Next is our Arena zone, a space that can host parties, concerts, and other activities. The last one is the Lifestyle Village, where you can find retail shops and services for travelers visiting Blue Tree Phuket. Some of our offers include a gym, a yoga studio, a salon, clothing stores, and restaurants. Moreover, there is Kids Planet, a nursery offering childcare services all day. Your children will be taken care of by professional and knowledgeable staff. Children will get to do activities that suit their development and skills. Another highlight is the Blue Tree Beach Club, a new landmark located in the center of Blue Tree. Designed in a tropical style, the space is decorated with bamboo reflecting a tropical area. It has three floors in total. The first-floor functions as a beach club. The second floor is a restaurant, and the third floor is open to private events.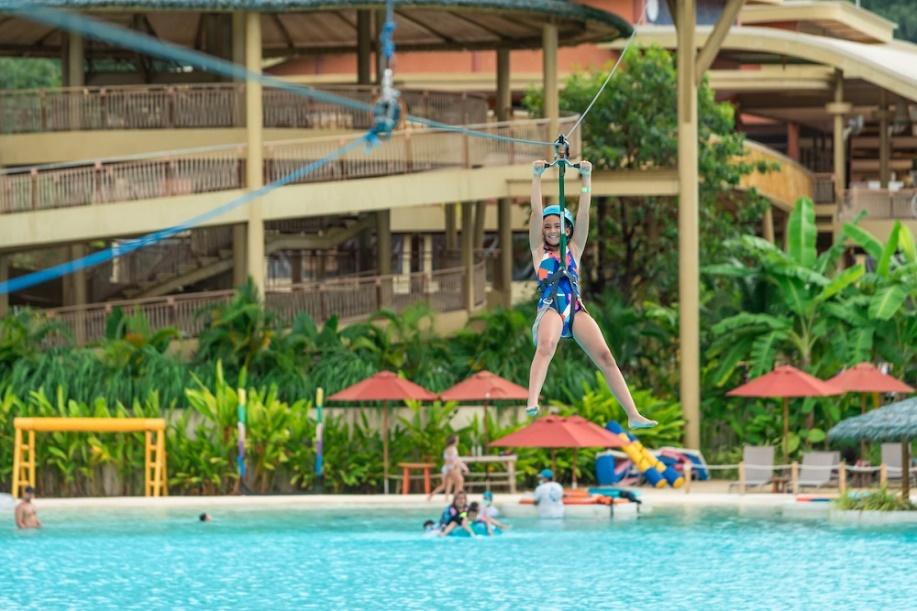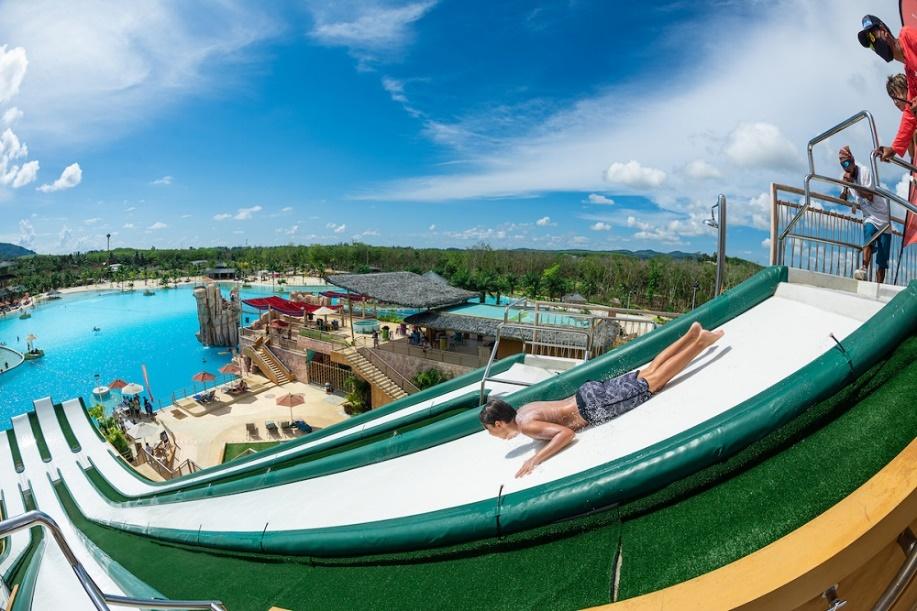 "Blue Tree Phuket also organizes weekly activities. You can enjoy our Picnic in the Park, Wansao (Saturday) Market, Havana Night, Wet n' Wild, and Blue Tree Beach Club Sandtastic Friday Night. All these events are specially catered to bring joy and happiness to all guests coming to Blue Tree. Additionally, Blue Tree Phuket is a destination for sports lovers since there are activities and sports events all year round. Recently, the biggest padel tennis court in Southeast Asia was launched, and the court can host international competitions," says Mr. Sarot.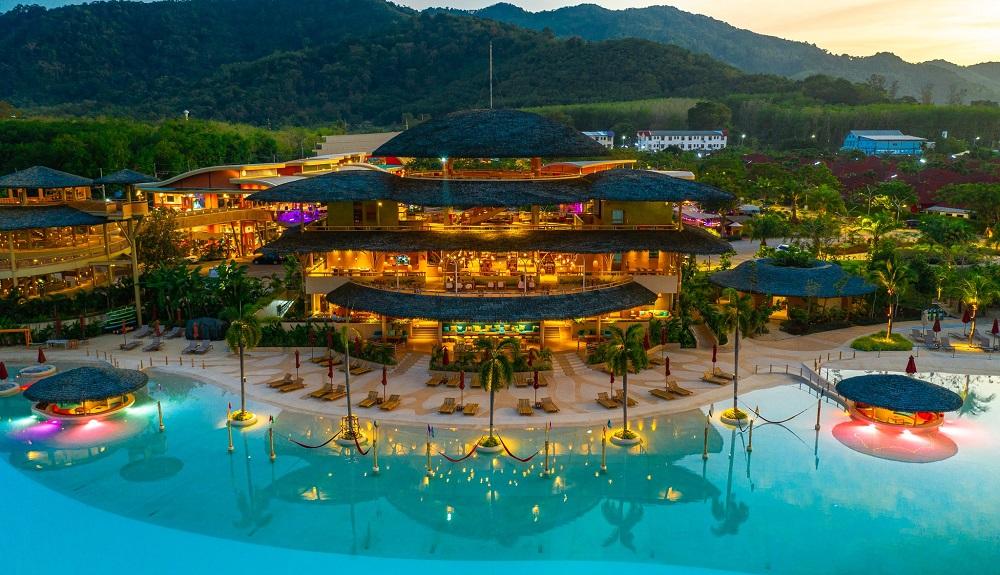 Blue Tree Phuket is truly a new destination for fun experiences in Phuket since it offers exactly what the slogan says, "Entertainment Hub, Thrill & Chill, Day & Night." Whether you are an adventure seeker, a sports lover, a party-goer, or a family-focused traveler, you shouldn't miss this place! Come and have a marvelous time with all activities at "Blue Tree Phuket."
For more information, call 076-602435.
#BlueTree #Phuket #BlueTreePhuket #FreeEntry
#Entertainmenthub #ThrillandChill #DayandNight