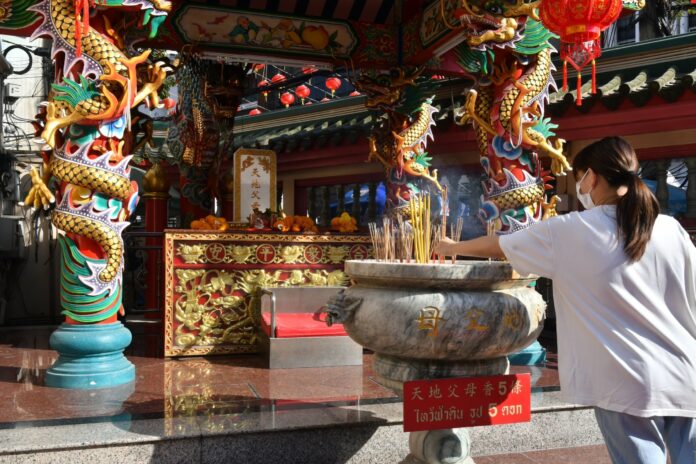 Every Chinese New Year, I am reminded of a personal story of the paternal side of my ancestors and how it shaped my conscience and a deep sense of debt of gratitude towards Thailand.
My paternal grandfather migrated from the southern Chinese island of Hainan when he was a teenager, never to return home. China was far from the superpower she is (again) today and many poor Chinese fled southeastern China to Southeast Asia to seek a better livelihood.
My grandfather landed in Thailand, married a Thai-Chinese, but he passed away when my father was still a teenager so I did not get a chance to meet him. Despite that, my father was able to succeed at school, (Saint Gabriel's College, where I was also eventually educated), and then went on to study at both Chulalongkorn and Thammasat Universities at the same time. Thammasat back then was still an open university. When he eventually entered the foreign service, like many children of Chinese immigrants in Thailand, there was virtually no discrimination. He went on to excel, like many Thai-Chinese who populated influential and senior posts at various state agencies.
If we look at the political arena, many past Thai prime ministers are Thai-Chinese and occupied both sides of the political divide. Thaksin and Yingluck Shinawatra on one side, Chuan Leekpai, Abhisit Vejjajiva on the other side. There is also the late Banharn Silpa-archa and more. Over the decades, many presidents and rectors of top universities were also Thai-Chinese and so are a good number of political activists Thai-Chinese.
Although there was a period particularly under the rule of Field Marshal Plaek Pibulsongkram when the Chinese identity among Thai-Chinese was suppressed, the stories of Thai-Chinese here and how they got assimilated (and gone native) differ vastly from some of our neighbors in Southeast Asia.
Think about the continued discrimination faced by Malaysian-Chinese due to the Bumiputras policy, which was introduced since the 1970s and affects their educational and job prospects and the anti-Chinese riots in 1964 and 1969. In Indonesia, the riot, looting, arson, and raping in Jakarta's Chinatown in 1998 (and two other cities) is something unthinkable in Thailand. An Indonesian-Chinese friend once told me when she applied for a job, she did not attach a mugshot photo of herself in the application because she fears that despite her localized Indonesian name and the fact that she was born Indonesian, she might be discriminated against in the hiring process simply because she is ethnic Chinese. In Japan, it is the ethnic Koreans, children of those forced by Japan's Imperial Army to relocate during the war, who find it difficult to gain equal job opportunity. This means many lawless Yakuza gangs end up being populated by Japanese of Korean ancestry.
Here in Thailand, and in the capital of Bangkok in particular, Thai-Chinese can be seen everywhere. They have gone native so the majority of the younger generation cannot speak the local Chinese dialect fluently and if they speak Chinese at all, it is Mandarin Chinese that they now learn at school as a second or third language. Perhaps that is the price we paid.
It is the relative openness and welcoming attitude of Thai society that benefit the majority of the Thai-Chinese – to the point that I dare say their loyalty is first and foremost to Thailand and that they are more Thai and Chinese in their identity.
The debt of gratitude that I feel I owe to this land, to this society, is not quantifiable. I try to repay the debt of gratitude by doing what I can in my little way to try to make Thailand a better society – by making it more equitable, free, just, and democratic.
Not a few Thai-Chinese that I know are putting the benefit of Thai society above their personal interest but we will need more Thai-Chinese to join the struggle for a better Thailand. After all, this is our homeland and we owe this land a debt of gratitude to make it better.