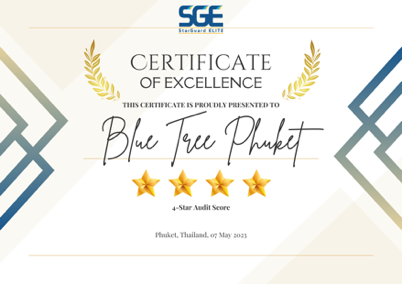 Blue Tree Phuket Unveils 5 Safety Models:
An All-Inclusive Entertainment Hub with International Standards
Safety is at the core of daily life and business operations, instilling confidence and delivering quality experiences to customers.
That holds true also for "Blue Tree Phuket" – the all-inclusive Entertainment Hub – where it offers unlimited fun and ensures that it is a hygienic and safe place for all without any dangers, for example, jellyfish, broken glasses, rubbish or chemical contaminants in waterways.
Blue Tree also places significant emphasis on safety, ensuring that tourists and visitors enjoy a worry-free and delightful experience. This commitment to safety is evident across all dimensions, ranging from internationally standardized play structures, professionally trained lifeguard teams, comprehensive emergency equipment support, to award-winning health standards such as The Best of SHA Awards 2021 (3 stars). Additionally, staff receive basic emergency training to adeptly handle unexpected situations.
Blue Tree provides external training for the First Aid / CPR courses, certified by EFR (Emergency First Response), to other organizations. It can also issue international certificates for four EFR courses. 
1.Ride structures are well-designed and of international standard.
The Blue Tree Phuket Entertainment Hub, which spans 140 rai of land, encompasses a plethora of fun-filled activities and thrilling rides. As a result, Blue Tree has placed extra emphasis on constructing structures in accordance with international standards. This includes attractions like the Superfly in the Blue Tree Lagoon, and even the Lagoon area itself, which utilizes Crystal technology and a high-efficiency water treatment system requiring minimal chlorine, thus mitigating the risk of allergies. Additionally, the skateboard area has been meticulously designed by professional skateboard athletes. Most importantly, all rides undergo regular checks and maintenance to ensure safety and adherence to high safety standards.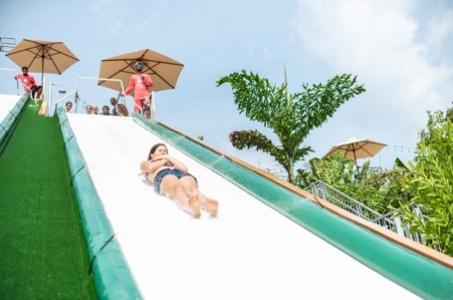 Safety ensured by highly experienced lifeguard team
Another crucial aspect on which Blue Tree Phuket places great emphasis is the lifeguard service. These lifeguards have received international standard training from SGE Star Guard Elite. In 2023, the lifeguard team from Blue Tree Phuket also achieved a 4-star rating in their evaluation. This ensures that all visitors and tourists who come to use the services at Blue Tree will have their safety taken care of. The team consists of 50 lifeguards deployed to oversee all areas of the project. Lifeguards at Blue Tree are also trained in water activity safety and possess skills in line with international standards, including first aid and underwater skills. Training and evaluations are continuously conducted, at least once a month, to ensure the team's competence and high efficiency.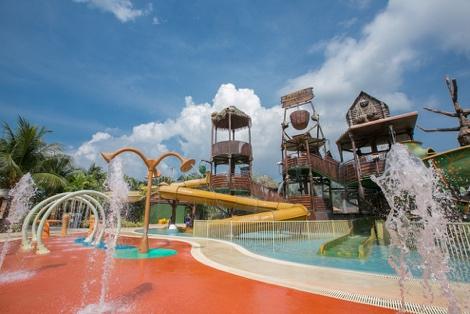 Rest assured as "everything" is regularly checked
Another essential aspect that cannot be overlooked is the provision of emergency equipment for consistent support. This includes regular inspection and maintenance of emergency equipment such as at Super Fly and various slides, which are checked daily before opening and every 2 hours during the day. Likewise, the zipline equipment is inspected daily before opening and maintained according to the designated intervals. This also encompasses life-saving equipment such as automatic defibrillators (AED) and other emergency prevention gear with full preparedness for any unforeseen incidents such as fire. Additionally, life jackets for use in Blue Tree Lagoon are provided in all sizes, from children to adults. Lockers for the safe-keeping of valuable items and various warning signs for facility usage are also crucial components that Blue Tree takes into consideration.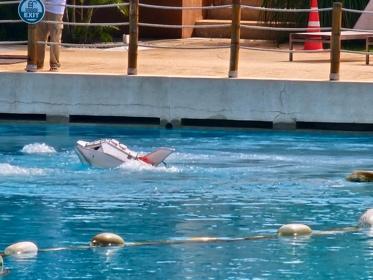 Globally recognized health and safety standards, awarded with The Best of SHA Awards 2021
One more indispensable aspect is the emphasis on maintaining hygiene and safety standards. Hence, Blue Tree Phuket comes with the assurance of The Best of SHA Awards 2021 (3 Stars) from the Ministry of Tourism and Sports, endorsed by the Tourism Authority of Thailand (TAT). In the tourism industry, the project adheres to health and safety standards with comprehensive hygiene measures in place to ensure utmost convenience for all service users. This practice extends to all areas including the Blue Tree Lagoon Zone, where cutting-edge technology such as underwater robots is employed for cleaning, along with an efficient water treatment system that uses minimal chlorine to prevent allergies. Additionally, a meticulous waste separation system, comprising recyclable and general waste, is strictly adhered to, ensuring a clean and safe environment.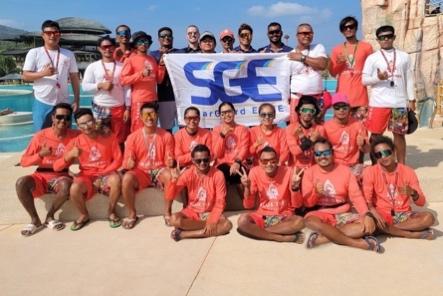 Thorough training is provided to the staff to cope with basic emergency situations.
Apart from the personnel and support team dedicated to the play equipment, who provide proper usage guidance, the employees undergo training in fundamental emergency response techniques. These include basic first aid, initial life-saving procedures, and basic fire prevention techniques. Expert Blue Tree representatives educate the staff on these aspects on a monthly basis, establishing a primary safety protocol to handle potential risks and situations.
External training courses
Blue Tree Phuket provides the First Aid / CPR training for other organizations to enhance their safety and security standard. There are four available courses including the First Aid, the CPR, the First Aid and CPR, and the EPR for Nanny. All trainers at Blue Tree are trained and certified by EFR (Emergency First Response), which is internationally recognized, and eligible to issue the international certificates upon the completion of all four courses. 
In conclusion, "Blue Tree Phuket" is an elevated hub of entertainment that raises the standards of tourism. It combines fun with safety, providing a worry-free experience. 
For further information, call 076-602435 or visit www.bluetree.fun .
#บลูทรี #ภูเก็ต #บลูทรีภูเก็ต #BlueTree #Phuket #BlueTreePhuket
#Entertainmenthub #ThrillandChill #DayandNight
#มาตรการความปลอดภัย #ไลฟ์การ์ด #Safety #Lifeguard #training