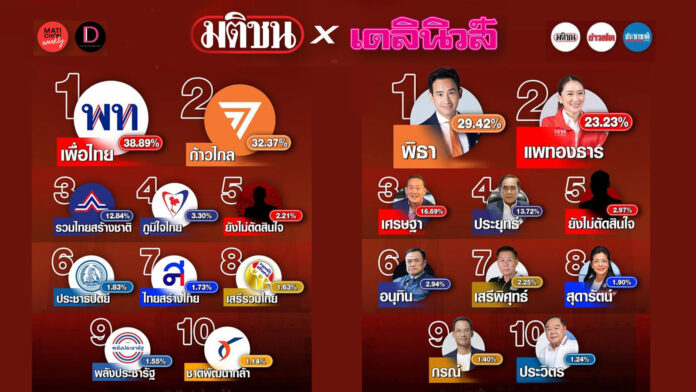 After the Eligible Thai voters had invited to take part in Matichon Group-Daily News online poll the first round, starting Saturday April 8-14, 2023, with the two questions:
Who will you support as PM in the general election?

Which political party will you vote for?
The results were published on Saturday, April 15, and showed that Move Forward Party PM candidate Pita Limjaroenrat came out on top in the first question and Pheu Thai Party led in the second question, out of a total of 84,706 online respondents during the period.
The biggest group of the online respondents are between 42-57 year old or Gen X (35.08%), followed by baby boomers or those age between 58-76 with 27.63%, followed by Gen Y, or those between 26-41 (26 50%), Gen Z, 18-25 (9 77%) and Silent Gen or those 77 year old and older (1.02%).
Most respondents are from Bangkok followed by nine of the following provinces: Nonthaburi, Chiang Mai, Pathum Thani, Samut Prakarn, Chonburi, Buriram, Nakhon Ratchasima, Khon Kaen and Songkhla.
Move Forward Party PM candidate Pita Limjaroenrat was the leading candidate whom people wanted to be  a prime minister. Pita receives 29.42% of support. At Number Two is Pheu Thai Party PM candidate Paetongtarn Shinawatra with 23.23%, followed by Pheu Thai Party's second PM candidate  Srettha Thavisin at 16 69%.
Incumbent Gen Prayut Chan-o-cha of the United Thai Nation Party is at Number Four with 13.72%, followe by 2 97% of undecided voters.
Anutin Charnveerakul of Bhumjai Thai Party is at Number Six at 2.94% and Thai Liberal Party's Sererpisuth Temeeyaves at 2.25%. Sudarat Keyuraphan of Thai Sang Thai came at Number Eight with 1.90%, followed by Korn Chatikavanij of Chart Pattana Kla Party with 1.40% and former deputy junta leader Gen Prawit Wongsuwan of the ruling Phalang Pracharath Party with 1.24%.
For the party which people prefered to vote for, Pheu Thai receives 38.89%. At Number Two is Move Forward Party with 32.37%, followed by United Thai Nation Party at 12.84%.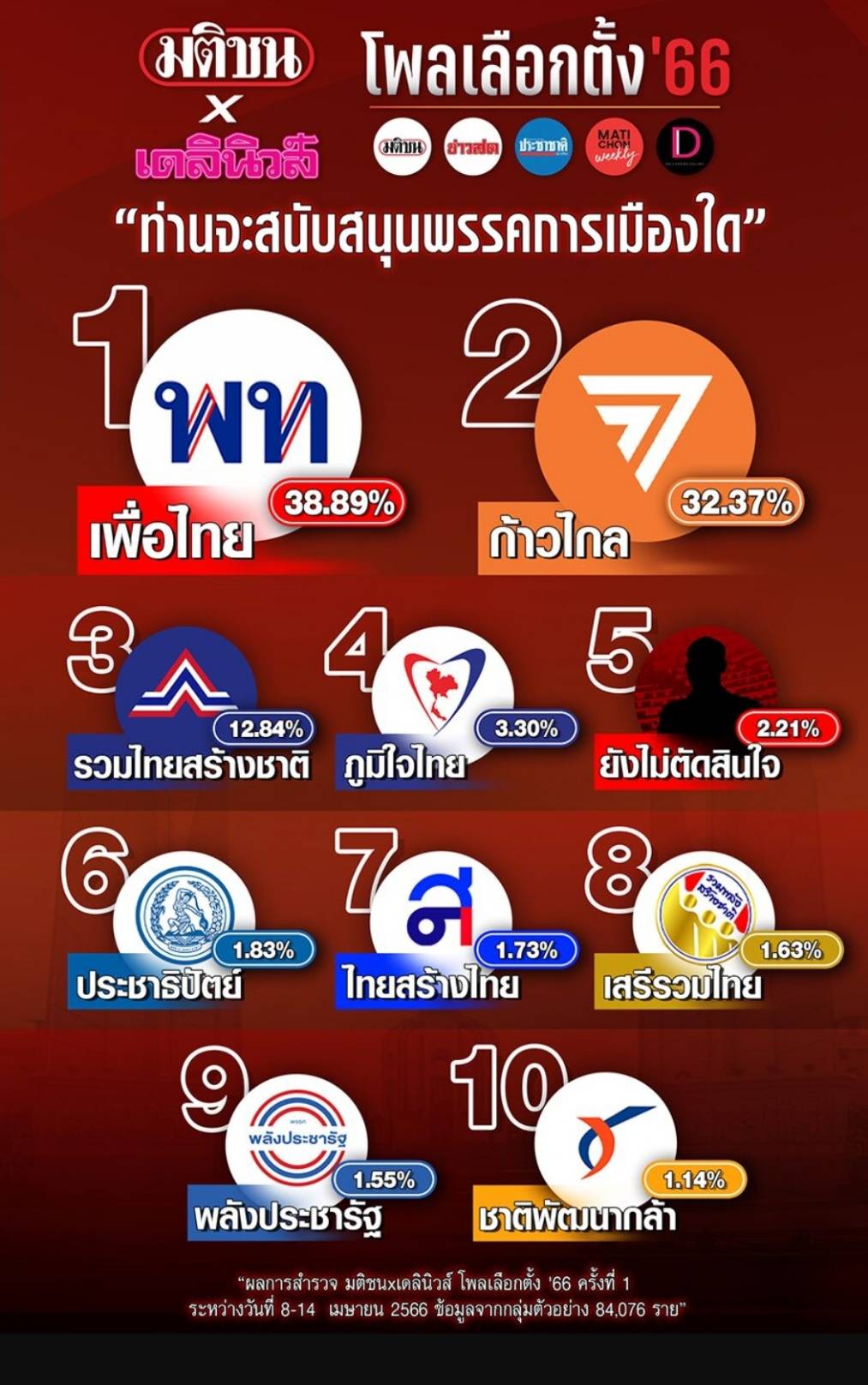 Bhumjai Thai Party is at Number Four with 3.30%, followed by decided voters at 2 21%, then the Democrat Party at 1.83%, Thai Sang Thai 1.73%, Thai Liberal Party 1.63%, Phalang Pracharath 1.55% and Chart Pattana Kla 1.14%.
This polls were organized by two Thai newspaper giants: Matichon and Daily News on the theme: "Which party – who is the next prime minister?" The second round, also online, is expected to begin on April 22.
______
Related news:
Matichon – Daily News Jointly Organize Election Poll