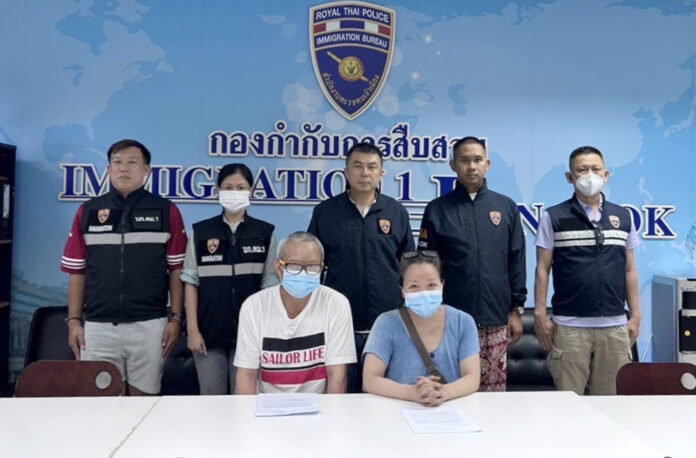 Taiwanese media outlets reported that a Taiwanese couple had been apprehended by Thai immigration officers upon their entry into Thailand. The couple had been on the run for over two decades after orchestrating a fraudulent scheme that defrauded victims in Taiwan of more than THB 4 billion, approximately USD 112 million.
Thai police said on June 29 that they are still waiting to hand over this couple to Taiwanese authorities for further legal action.
The Thai Immigration Department's investigative team received a tip from the Office of Economic and Cultural Affairs in Taipei, Taiwan, which led to the successful arrest of the couple. It turned out that Chen, Chih-Tsan, 64, and Liu, Mei-Hsueh, 57, along with 12 accomplices, enticed individuals to invest in exchange for high returns, resulting in significant losses for victims in Taiwan. Other suspects have already been arrested.
The couple had established a company named Lien-chin-wen, claiming it to be a subsidiary of the renowned global financial institution, Richmond. The scam garnered significant attention in Taiwan, with numerous individuals expressing interest in investing, particularly due to the false association with Richmond. The total accumulated losses amounted to THB 4 billion.
The couple later closed the business and have avoided Taiwan for the past 20 years. They adopted new identities by traveling to Belize, a small coastal state in North America. They managed to obtain Belizean citizenship and passports, changed their names and settled there through investments.
In 2018, they entered Thailand with their Belizean passports and then applied to change their visa type to a Privilege Entry (PE) visa by becoming members of the Thailand Privilege Card program. They hid in a luxury condominium in the Bang Na area.
Thai police later discovered that the fugitive couple were the same people wanted by Taiwanese authorities, which led to the cancellation of their visas. When they learned of the visa cancellation, they booked airline tickets and prepared to travel to Singapore. However, they were arrested by the police in the parking lot of the apartment block.
After the arrest, investigators from the Thai Special Investigations Division and the head of the International Crime Coordination Division of the Taiwan National Police Agency conducted further interrogations into her financial transactions and other assets, including links to the nominee network in Thailand.
Preliminary investigations revealed valuable real estate, including a luxury condominium worth 15 million baht, and about 2 million baht in cash in bank accounts.