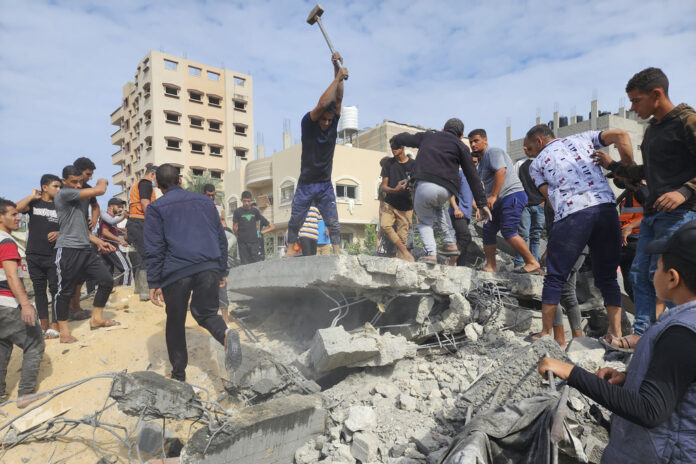 KHAN YOUNIS, Gaza Strip (AP) — A massive blast rocked a Gaza City hospital packed with wounded and other Palestinians seeking shelter Tuesday, killing hundreds of people, the Hamas-run Health Ministry said. Hamas blamed an Israeli airstrike, while the Israeli military blamed a rocket misfired by other Palestinian militants.
At least 500 people were killed, the ministry said.
In a briefing with reporters, the chief army spokesman of Israel, Rear Adm. Daniel Hagari, said the army determined there were no air force, ground or naval attacks in the area at the time of the blast. He said radar detected outgoing rocket fire at the same moment, and intercepted communications between militant groups indicated that Islamic Jihad fired the rockets.
Hagari also shared aerial footage collected by a military drone that showed a blast that he said was inconsistent with Israeli weaponry. He said the explosion occurred in the building's parking lot, and he noted that the death toll could not be confirmed.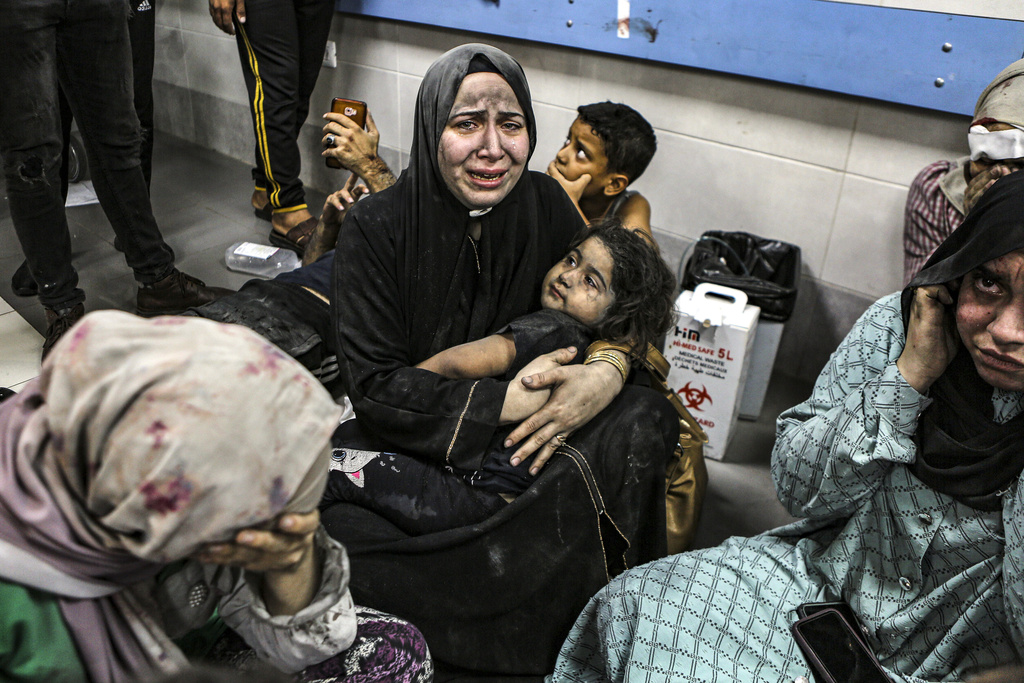 Since the war began, the military said in a statement that roughly 450 rockets fired at Israel by militant groups had landed in Gaza, "endangering and harming the lives of Gazan residents."
Islamic Jihad dismissed those claims, accusing Israel of "trying hard to evade responsibility for the brutal massacre it committed."
The group pointed to Israel's order that Al-Ahli be evacuated and its previous bombing of the hospital complex as proof that the hospital was an Israeli target. It also said the scale of the explosion, the angle of the bomb's fall and the extent of the destruction all pointed to Israel.
Hundreds of Palestinians had taken refuge in al-Ahli and other hospitals in Gaza City in past days, hoping they would be spared bombardment after Israel ordered all residents of the city and surrounding areas to evacuate to the southern Gaza Strip.
Ambulances and private cars rushed some 350 casualties from the al-Ahli blast to Gaza City's main hospital, al-Shifa, which was already overwhelmed with wounded from other strikes, said its director, Mohammed Abu Selmia. The wounded were laid onto bloody floors, screaming in pain.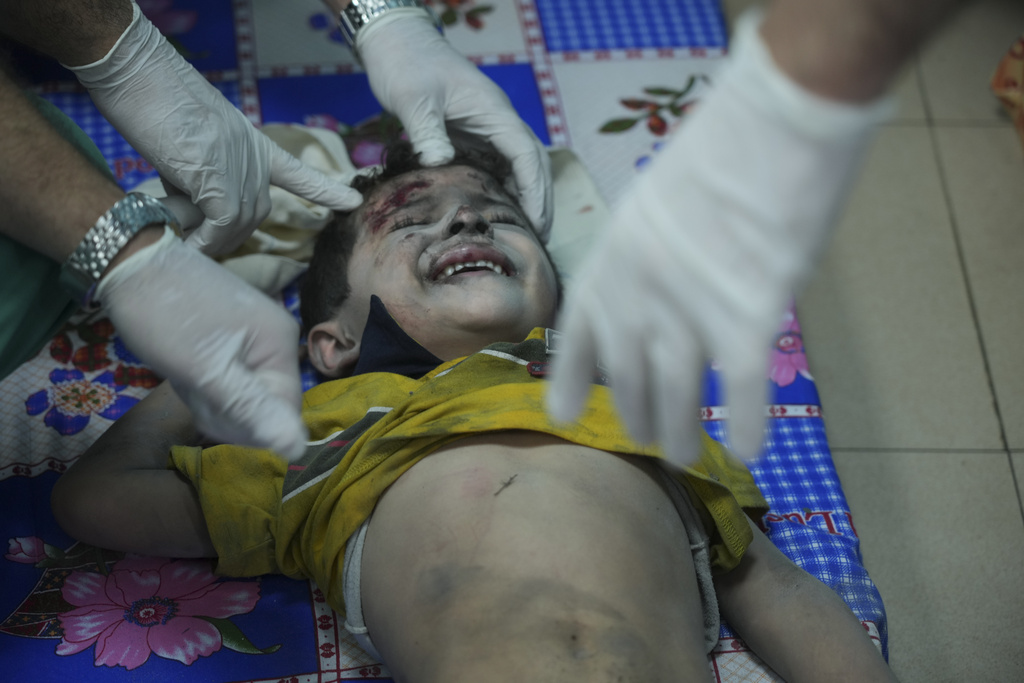 "We need equipment, we need medicine, we need beds, we need anesthesia, we need everything," Abu Selmia said. He warned that fuel for the hospital's generators would run out within hours.
Before the al-Alhi Hospital deaths, Israeli strikes on Gaza killed at least 2,778 people and wounded 9,700, according to the Gaza Health Ministry, and nearly two-thirds of those killed were children. Another 1,200 people across Gaza are believed to be buried under the rubble, alive or dead, health authorities said.
More than 1,400 people in Israel have been killed, mostly civilians who were slain in Hamas' Oct. 7 attack. The assault also resulted in some 200 being taken captive into Gaza. Hamas militants in Gaza have launched rockets every day since, aiming at cities across Israel.
Expressions of condemnation and grief are pouring in after hundreds of people were killed in an explosion at a Gaza City hospital. Countries such as Syria and Saudi Arabia blamed Israel for the blast, with Libya's Foreign Ministry accusing Israel of "war crimes and genocide" in the Gaza Strip. Iraq declared three days of mourning, and there were protests there and in Lebanon.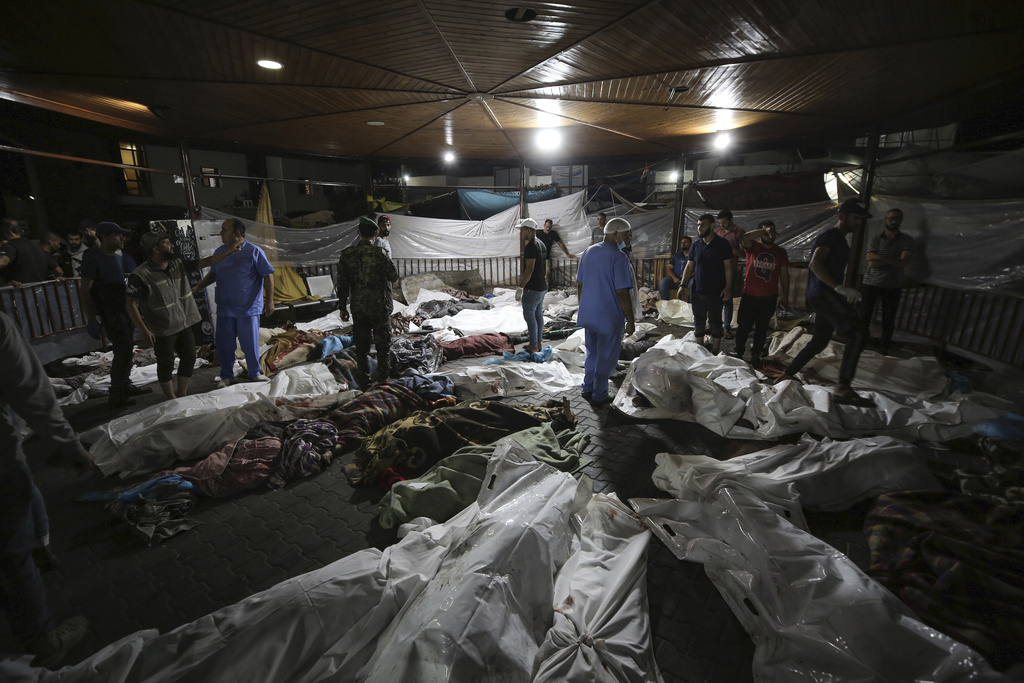 Egypt's President, Abdul-Fattah el-Sissi, condemned what he called Israel's "deliberate bombing" of Ahli Arab hospital and "a clear violation of international law … and humanity."
French President Emmanuel Macron said in a post on X, formerly Twitter, that his country condemns "the attack on the Al-Ahli Arabi hospital" and there's no justification for targeting a hospital or civilians.
Richard Peeperkorn, World Health Organization representative for the West Bank and Gaza, expressed "our deepest grief at the horror that has unfolded," calling it "unprecedented even in a region that has seen consistent attacks on healthcare."
The International Committee of the Red Cross said in a statement that it was "shocked and horrified by reports that Al Ahli Arab Hospital in Gaza was destroyed."
The United Arab Emirates and Russia called for an emergency meeting of the U.N. Security Council on Wednesday.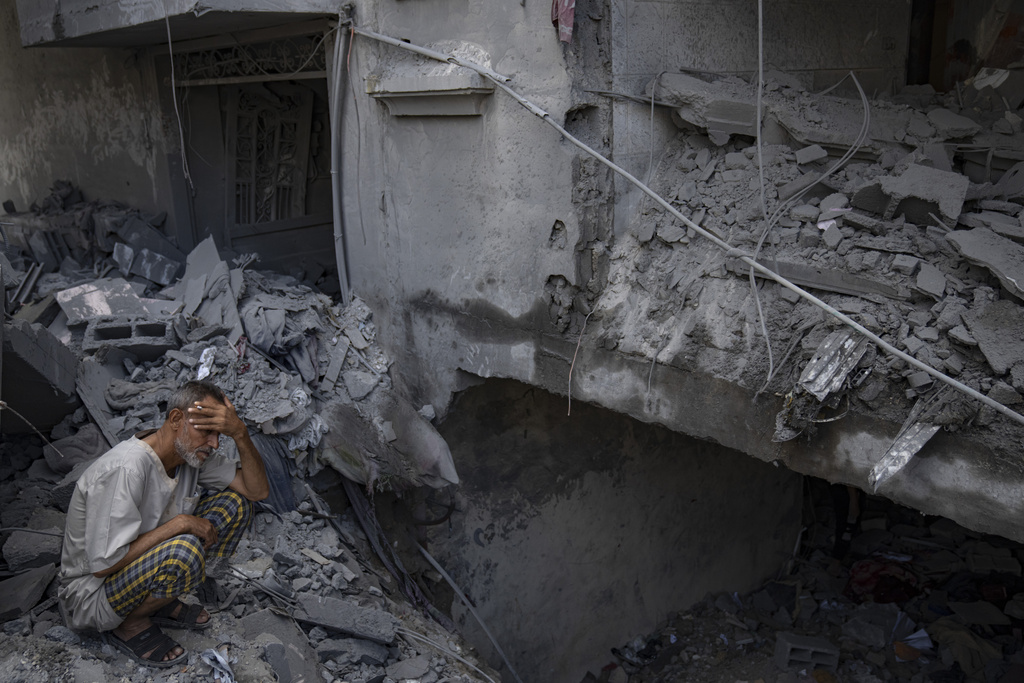 As rage spread through the region because of the hospital carnage, and with President Joe Biden heading to the Mideast in hopes of stopping the war from spreading, Jordan's foreign minister said his country canceled a regional summit scheduled for Wednesday in Amman, where Biden was to meet with Jordan's King Abdullah II, Palestinian President Mahmoud Abbas and Egyptian President Abdel Fattah el-Sissi.
The war between Israel and Hamas was "pushing the region to the brink," Jordanian Foreign Minister Ayman Safadi told state-run television. He said Jordan would host the summit only when everyone had agreed its purpose would be to "stop the war, respect the humanity of the Palestinians and deliver the aid they deserve."
Biden will now visit only Israel, a White House official said.
The explosion at the al-Ahli Hospital left gruesome scenes. Video that The Associated Press confirmed was from the hospital showed fire engulfing the building and the hospital grounds strewn with torn bodies, many of them young children. The grass around them was strewn with blankets, school backpacks and other belongings.