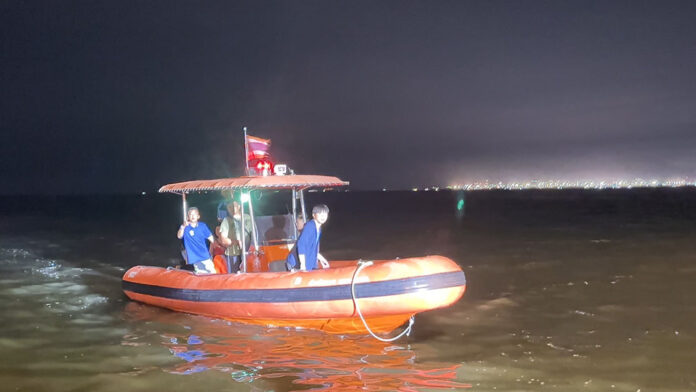 Thai people, including officers from Bang Lamung Police Station, Chonburi Province, thrillingly saved the life of a Chinese male tourist in the darkness of the sea at 2:30 a.m. on October 29 as the visitor walked deeper into the sea and disappeared.
The incident occurred near Krathinglai Beach, behind Chomchan Hotel, Pattaya City, Bang Lamung District, Chonburi Province. When the police were notified of the incident, they contacted Sawang Boriboon Dhammasathan Rescuers, and marine rescue personnel were going to the scene to help.
The police officers questioned his relatives, who were restless on the beach, while the rescuers drove two boats about seeking this man. According to reports, the person who walked into the sea, 37-year-old Ma, had a dispute with his Chinese girlfriend. Then he stripped off his shirt, walked into the sea, and vanished for an hour.
Later, the marine rescuer's boat located the man in a depressed state, drifting in the middle of the water, 500 metres from shore. So he was put in a boat and safely returned to land, where a group of delighted relatives awaited him.
Thai eyewitness Warakorn Ajja, 20, said he and three friends witnessed a female Chinese tourist screaming for help and pointed out that her partner had stepped into the sea. He and three friends raced down to aid but were unable to locate him, so he hurriedly called the cops for assistance.
_____