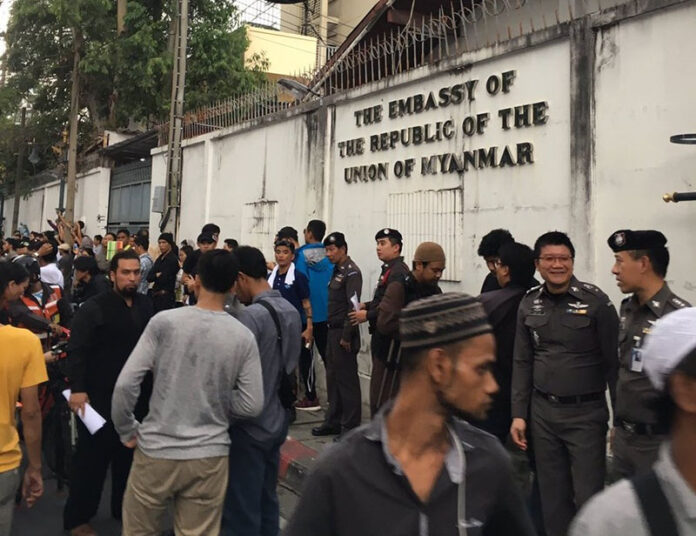 BANGKOK — Thai Muslims expressed condemnation Friday in the capital and Deep South for the ongoing clashes in western Burma which have killed an estimated 80 ethnic Rohingya.
More than 70 people gathered at the Myanmar Embassy in Bangkok at a protest organized by the official agency representing Muslims in Thailand. Hundreds of people also joined in prayer at a mosque in the southern border province of Pattani in solidarity with the Rohingya, a Muslim-majority ethnic group once described by the United Nations as among the most persecuted people on earth.
Protesters dispersed from the peaceful protest after an embassy representative accepted their petition, according to local police station chief Pongsak Sapla-or, who did not want to describe it as a protest.
"They were there to submit a petition. There was no protest," Col. Pongsak said. "They asked the Myanmar government to stop using violence against the Rohingya."
The Central Mosque of Pattani also hosted a mass prayer for Rohingya communities in Burma. After the ceremony was over, Waedueramae Mamingi, director of Pattani's Central Islamic Committee, read a statement urging the Burmese government to stop persecuting the Rohingyas, and to grant them equal protection to Burmese citizens.
He also asked the ASEAN member governments to work with Myanmar to bring about the end of violence.
Around 80 people have died in Myanmar's western state of Rakhine since the latest conflict erupted, according to several rights group.
Burmese security forces have been accused of engaging in a state-sanctioned campaign of torching communities and sexual violence against the Rohingya. Little reliable information is available as the military has barred journalists and aid workers from entering the region.