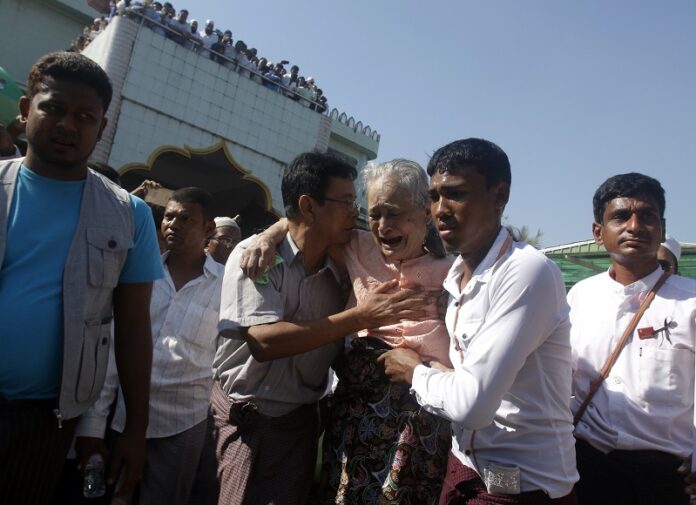 YANGON — The family of an assassinated adviser to Myanmar's government had worried about his activities and warned him to be careful, but he pursued his work for the sake of the country's people, regardless of who they were or what religion they believed, his daughter said Tuesday.
Ko Ni, a prominent Muslim lawyer who advised Aung San Suu Kyi and her ruling National League for Democracy party, was shot in the head at close range as he was walking out of the Yangon airport Sunday.
His family feels no regret for his high-profile political work and considers him a fallen hero, his daughter, medical doctor Yin Nwe Khine, told The Associated Press in an exclusive interview. "We were always worried about him and the danger he might face because of politics," she said.
"But he was always very enthusiastic about politics. He wanted to do good for the sake of the people," she said in the family's colonial-era apartment on a crowded downtown Yangon street. "He didn't work for any particular people or religion."
Ko Ni specialized in constitutional law, criticizing army interference in politics and advising Suu Kyi's party how to try to get around statutes in the army-imposed constitution that gave the military undue power in the government democratically elected in 2015. He was also an advocate for the Muslim minority in the overwhelmingly Buddhist country, a position that earned him the enmity of ultra-nationalist Buddhist monks and their allies.
Suu Kyi as of Tuesday afternoon has not spoken publicly about the killing, and did not attend Ko Ni's funeral on Monday, instead carrying out her duties in the capital Naypyitaw. Her silence has disturbed some of Ko Ni's admirers.
"I didn't notice if Daw Aung San Suu Kyi sent flowers for the funeral or not as it was a big crowd. But she never called or contacted us in person to give her condolences," said Yin Nwe Khine, using an honorific for older women.
Pressed on how she felt about Suu Kyi's silence, she responded: "My father is the biggest thing for me. I've lost that big thing, 'my father' and I don't expect anything from anyone. The country and its people will judge what kind of loss my father's death was for them."
Underlining the potential for controversy, a ruling party official at the gate to the family's apartment building told the largely Muslim crowd that journalists should not be allowed inside, sparking anger among the crowd who responded that the family had agreed to an interview.
Ko Ni is survived by his wife, three children and his elderly mother.
Police say the gunman also shot dead a taxi driver as he tried to flee Sunday. Officials described him as an ex-convict who had been imprisoned for illegally trading statues of Buddha. They have not publicly announced a motive for the killing, but a statement from President Htin Kyaw's office said that according to an initial interrogation of the suspect, the shooting was intended "to threaten the country's stability."
There is much speculation that he was killed for standing up to the army, or for working on behalf of the Muslim community, but Yin Nwe Khine declined to take a position on the possible motive.
"It is too early to say if we are satisfied with the case or not, because it just happened a few days ago," she said. "I think time and actions by the government will prove if they can reveal the truth or not.
"My father died, he was killed and he was a fallen hero. And for his death, he deserves at least the truth. We deserve to have this one thing, the truth."
Story: Esther Htusan