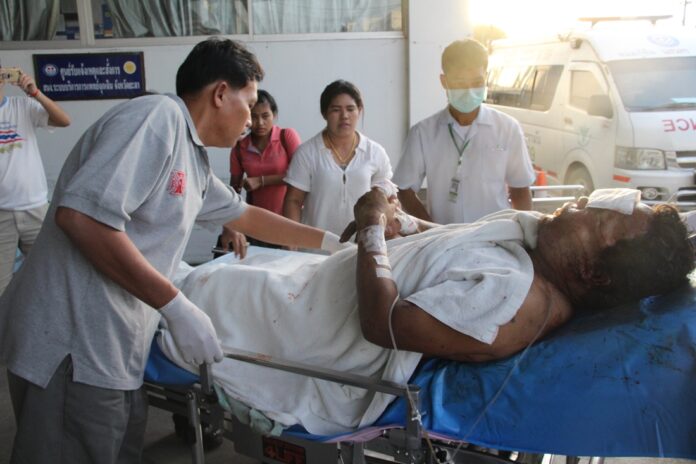 BANGKOK — Junta chairman Prayuth Chan-ocha told reporters Tuesday he has seen progress in an ongoing peace dialogue with separatists in the Deep South following the death of their "spiritual leader" last month.
Hopes of closer negotiations between the Thai state and insurgents were raised after Sapaeng Basoe, who commanded the most well-armed group in the region, died last month at 81. However, it is still unclear who will replace him and how the movement will be steered.
"The dialogue is still taking place," Gen. Prayuth said after a Cabinet meeting on Tuesday. "I have personally received positive information about it. There were more talks about setting up safety zones."
Read: Death of Separatist Leader Prompts Hope, Fear For Peace Prospects
He said the effort would likely improve going forward.
"There should be progress because, in the past, they chose to talk about topics they couldn't agree on," Prayuth said. "The state maintains our position, and the other side only wants to focus on what it wants. Today we will choose what things we can do first. This is how we will solve the problem."
The Saudi Arabia-educated Sapaeng was regarded as the spiritual leader of the National Revolutionary Front, or BRN, the most active among all militant groups currently seeking independence for the three Muslim-majority provinces in the southern border region.
The secretive group appeared to be reluctant to join the negotiation table under Sapaeng's 13-year leadership. There were even reports of Sapaeng personally ordering his reps to walk out from some talks in protest to Thai authorities.
But experts say a BRN without Sapaeng will not necessarily mean a more gentle movement, as the group is divided into hawks and doves, and it is not clear who will assume power in Sapaeng's absence. Those who share this view include Aksara Kerdpol, the general in charge of the Thai army's negotiation team.
"They still have number two, three, four, and so on," Gen. Aksara said. "We're monitoring who will succeed him [Sapaeng]. We're in touch with Malaysian authorities about the matter."
Nevertheless, Aksara said the government will be committed to opening a dialogue with the insurgents no matter who replaces Sapaeng.
"It's their business. No matter what they choose, it will not affect our talk," the general said. "This is our policy. Our government's policy."
The secessionist conflict has claimed at least 6,800 lives since it first broke out in January 2004.
Col. Yutthanam Petchmuang, a spokesman for a regional counter-insurgency operation said he had no statistics about insurgent attacks since Sapaeng's death, but he felt that the situation has improved somewhat.
Related stories:
Bangkok Bomb Plotters Linked to Southern Insurgency: Police
Prawit Wants to Build a Wall Along Border With Malaysia