PATTANI — Jittraporn Banjong was working in front of the checkout counter when two men with covered faces entered the 7-Eleven where she worked. They fired a gunshot and told everyone to  get down before splashing gasoline all over the place.
The four employees escaped through the back door just as the fire spread through the convenience store at a PTT gas station in the Nong Chik district of the southern border province of Pattani. They later learned the attackers placed an improvised explosive device in front of the gas station to attack authorities responding to the scene.
The arson and bombing was among 19 similar attacks to strike three southern provinces Wednesday night, killing three people and injuring five others. In addition to the gas station and military and police targets, many of the attacks targeted infrastructure such as utility poles.
Read: Wave of Attacks Kills 3 as Cabinet Delegation Arrives in Deep South
Not far from Jittraporn's 7-Eleven were 13 representatives of the junta's interim cabinet, who had arrived earlier in the day for unprecedented, high-level talks with local religious leaders about the ongoing peace dialogue and economic development in the region.
Described as a "forward cabinet," the delegation was established last month with a mandate to coordinate between the military government and its security forces operating in the Deep South to resolve the long-burning insurgency there which has claimed thousands of lives over a dozen years.
A spokesman for the Internal Security Operations Command, a special military unit that answers only to the prime minister, dismissed any link between the attacks and the Bangkok delegation's visit.
"There was nothing to indicate it was because of the visit," Col. Peerawat Sangthong said Thursday.
Southern militants rarely take credit for their attacks, and the military avoids giving it, preferring to play down the conflict and pin attacks on malcontents and "bandits."
Peerawat said the attacks were aimed at destroying infrastructure to the detriment of local people.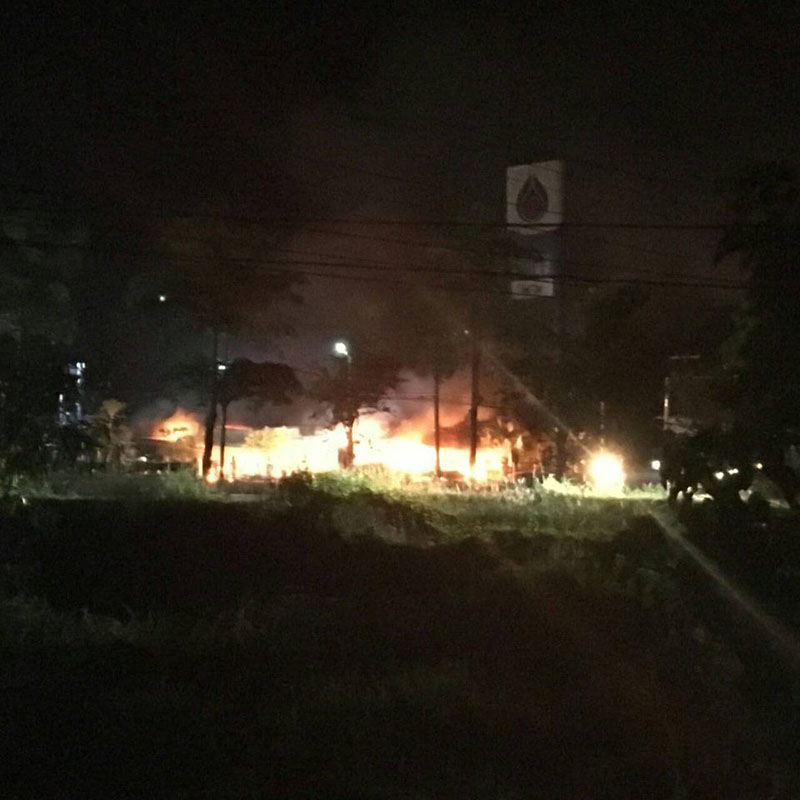 Among the three killed Wednesday night were Sanya Samankandee and Dolmalek Leedeah, two security guards at an Isuzu showroom in the Chana district of Songkhla province. They were shot dead by militants who then bombed the building.
An explosion reportedly hit the showroom again at 7am Thursday. No one was injured. An improvised explosive was found inside a gas tank.
The third to die was soldier Noppol Kaewpetch, who was shot when four gunmen on two motorcycles opened fire at about 10pm on a military facility in Pattani province.
In Pattani, 12 attacks hit targets including a military facility, utility poles and police box. Six blasts hit Songkhla's Thepha and Chana districts, and one explosion was reported on a road in Narathiwat's Bacho district.
Related stories:
Wave of Attacks Kills 3 as Cabinet Delegation Arrives in Deep South
Teacher Shot Dead at Pattani School
Crude Cluster Bomb Kills 1 in Night Market, Injures Dozens
Car Bomb Plot: Junta Confirms 5 Held for Questioning