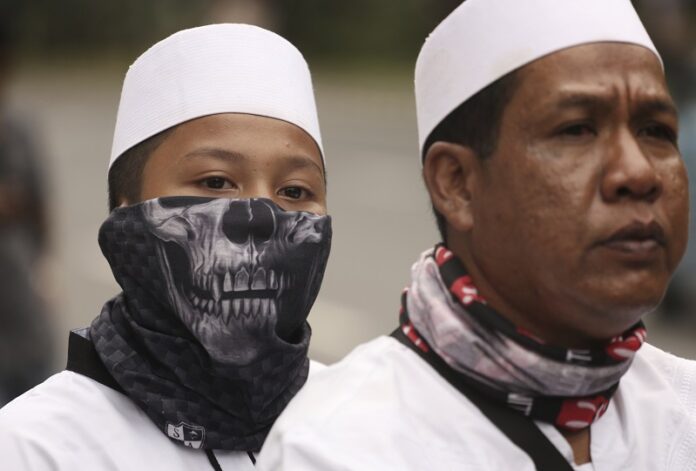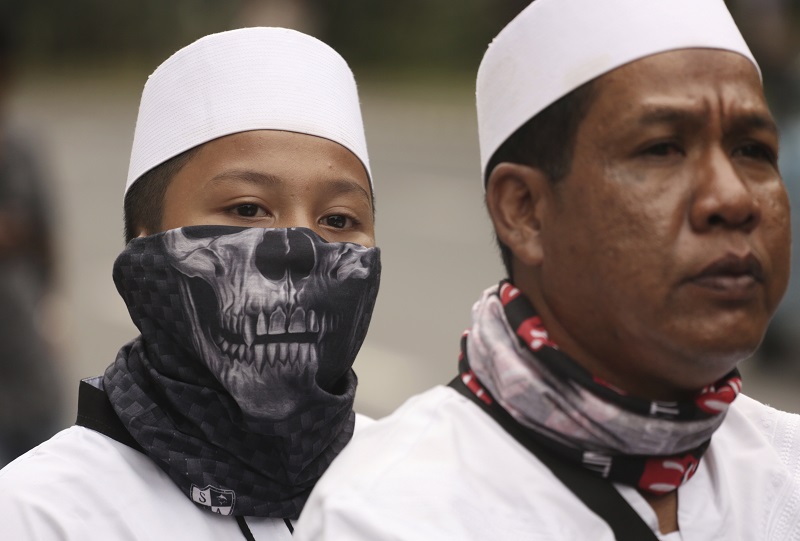 JAKARTA — Indonesian police are planning a massive show of force in the capital Jakarta on Friday to contain a much-hyped protest by Muslim hardliners against the city's popular governor that threatens to ignite religious and racial flashpoints.
An accusation of blasphemy against the Jakarta governor Basuki "Ahok" Tjahaja Purnama, an ethnic Chinese and minority Christian who is an ally of the country's president, has galvanized his political opponents in the Muslim-majority nation of 250 million and given a notorious group of hardliners a national stage.
National Police spokesman Boy Rafli Amar said 16,000 police will be deployed along with 2,000 soldiers and 2,000 of Jakarta's public order officers for the protest that is expected to begin in the early afternoon following Friday prayers. Gen. Gatot Nurmantyo, chief of Indonesia's powerful military, has said it "will be in the frontline against any movement aimed at disrupting the unity and integrity of the nation."
Indonesians are already fighting on social media over the blasphemy claim and the protest, which organizers optimistically boast will attract half a million people to Jakarta's traffic clogged streets. Police have said it might draw up to 100,000 people based on communications with Muslim groups involved in its planning.
Blasphemy is a criminal offense in Indonesia and prosecutions have increased in the past decade. Amnesty International documented 106 convictions between 2004 and 2014 with some individuals imprisoned for up to five years.
Ahok, who is seeking a second term as Jakarta governor and is a possible running mate for President Joko "Jokowi" Widodo in the 2019 presidential elections, is popular with Jakarta's middle class. He is adored as a blunt speaker who doesn't tolerate corruption and articulates a vision to make the chaotic, dysfunctional city more like clean, orderly and efficient Singapore.
But the anti-corruption stance has made him enemies and the evictions of thousands of the city's poorest people to make way for urban improvement has stoked anger and resentment and played to a stereotype of Chinese as exploiters of Indonesia's poor Muslim masses. On the national stage, Ahok is ranged against former President Susilo Bambang Yudhoyono, whose son is a candidate for Jakarta governor, a role that is a stepping stone to national leadership.
The simmering political climate has provided an opening for the Islamic Defenders Front, a vigilante group that wants to impose Shariah law, to burnish its credentials as protector of Indonesia's majority faith at the expense of mainstream Muslim groups.
The main organizer of the protest, the Front is demanding Ahok's arrest for blasphemy after a video circulated online in which he joked to an audience about a passage in the Quran that could be interpreted as prohibiting Muslims from accepting non-Muslims as leaders. The governor has apologized for the comment and been questioned by police.
"Ahok was clearly desecrating the holy Quran," said Munarman, a spokesman for the Front and a coordinator of Friday's rally. "We will protest on the streets with people power until Ahok is arrested."
Munarman, who like many Indonesians uses one name, denied the protest would be racially charged or that it aimed to influence the outcome of Jakarta's election in February.
"We remind the government and anybody else that we will not keep silent before this injustice, because everyone is equal before the law in this country," he said.
But the anti-Ahok movement, which has attracted moderates as well as hard-line elements as the city election approached, has overflowed with slurs based on race and religion. And local media have reported an uptick in public order offenses with an anti-Chinese motivation.
The vulnerability of Indonesia's ethnic Chinese minority remains a raw issue in the country. In the chaos that engulfed Indonesia in May 1998 amid the Asian financial crisis, mobs in Jakarta and other cities targeted Chinese businesses and individuals, killing many.
Amar, the police spokesman, said police have questioned 15 witnesses along with experts in religion and language in connection with the alleged blasphemous remarks but could not yet draw any conclusions.
Story: Niniek Karmini, Ali Kotarumalos