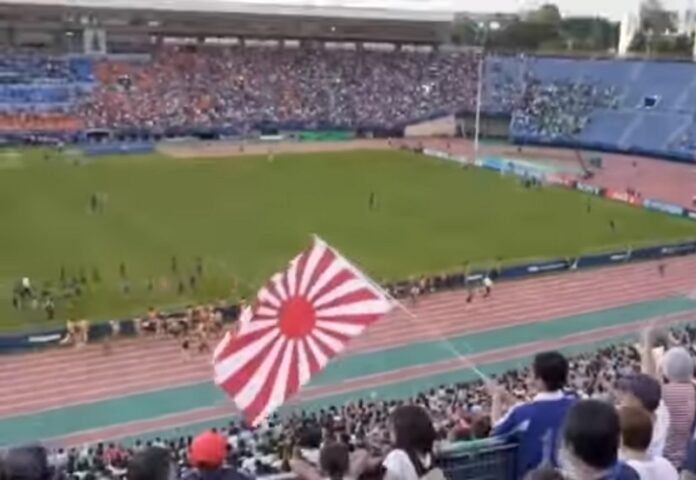 KUALA LUMPUR — Kawasaki Frontale of Japan was one of three clubs disciplined by the Asian Football Confederation over "discrimination and spectator misconduct" at recent matches.
The AFC league said in a statement Thursday that Frontale fans displayed war-time flag at an April 25 Asian Champions League match against Suwon Bluewings in South Korea, referring to it as "a banner with a discriminatory symbol relating to national origin and political opinion."
In a statement, the AFC's disciplinary committee said "The defendant spectator(s) displayed a 'Rising Sun' flag, an action undertaken to offend the dignity of: (i) home team supporters; and / or (ii) people of South Korea origin, through the use of a contemptuous, discriminatory or denigratory action … concerning a political opinion and/or national origin."
Relations between the countries have been strained for decades, with territorial claims and Japan's treatment of colonial Korea among the issues. The old Japanese imperial army flag can inflame tensions.
As recently as early April, Japan returned its recalled ambassador to South Korea despite a continuing impasse over negotiations of South Korea's demands that it apologize or pay reparations for mistreatment of World War II "comfort women" from Korea.
Kawasaki Frontale was fined USD $15,000 and ordered to host one future match in AFC club competitions without spectators. The stadium spectator ban was suspended for a probationary period of one year.
China's Guangzhou Evergrande was found guilty and fined USD $22,500 after its supporters exhibited "a banner depicting a discriminatory message relating to national origin and political opinion" during another Asian Champions League match on April 25 against Eastern SC of Hong Kong.
Evergrande was ordered to play two future ACL matches in an empty stadium, with the sanction suspended for a probationary period of two years.
In the AFC Cup, Nejmeh SC of Lebanon was fined USD $20,000 after its home supporters chanted discriminatory and religious phrases throughout the match against Al Wehdat of Jordan on April 17.
Nejmeh was ordered to play two future matches without spectators in AFC club competitions, with one match suspended for a probationary period of two years.