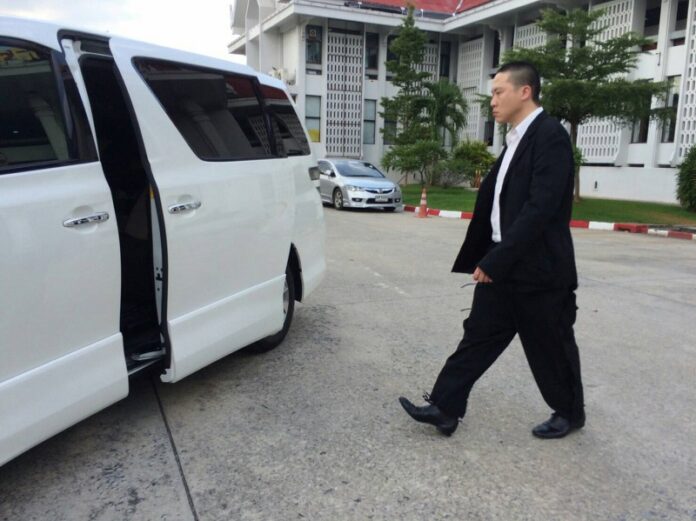 AYUTTHAYA — In the end, Jenphop Viraporn didn't take the stand as expected Thursday, but outside the courtroom, the man charged with killing two grad students in a car crash last year spoke casually on topics such as his years studying abroad.
He sat and spoke with the family of one of those killed in the car crash 14 months ago about his life and interests, and when the conversation turned to the Red Bull heir who's evaded justice for a deadly hit-and-run incident five years ago, Jenphop expressed disdain for the slow pace of justice.
A prosecutor joked he'd expected the same from Jenphop.
Read: Eyewitnesses Describe Fatal Crash at Opening of Jenphop Trial
"I really respect your spirit for showing up and fighting your case in court," said Prinya Sanitchone, an attorney working to put 39-year-old Jenphop behind bars.
The expected testimony from Jenphop, a scion of a luxury car dealership, was postponed because the family of the other victim to die in the March 13, 2016, wreck could not yet agree to the compensation offered he offered.
"We will have to see if they can agree by the next court date, which is May 9," prosecutor Siripong Sitthiseriphap said after today's session was adjourned. Attorneys would not disclose the amount of money offered.
Jenphop, who's charged with fatal reckless driving and DUI, was due to take the stand today and again Tuesday to testify under oath about the crash last year, which killed grad students Krissana Thaworn and Thantapat Horsaengchai.
But just before the hearing began, lawyers representing Thantapat's family raised objections to Jenphop's compensation offer. The courtroom was vacated for several hours when Thantapat's parents and sister arrived to negotiate with Jenphop's lawyer.
The judge later summoned all parties back to the courtroom and informed them that Thantapat's family wished to discuss the issue among themselves before making a decision. They are due to give an answer May 9.
If they agree to the terms, Jenphop will take the stand the same day. He will also present his parents as witnesses for his defense.
Prinya, the attorney representing Krissana's family, said his clients were satisfied by Jenphop's offer, which he would not disclose.
State of Mind
The question at the heart of Jenphop's acquittal or conviction will be whether he was under the influence of any alcohol, narcotics or medication at the time of the accident.
Investigators said they found an antidepressant in his system with side effects which can impair driving. Antidepressant Lexapro, which causes drowsiness, was widely reported to have been found in his vehicle after the crash.
Among the charges Jenphop is being tried for is DUI, which was filed automatically because he refused a sobriety test. Jenphop is expected to contest the charge. If convicted, he faces up to 10 years in prison.
His testimony is of interest because Jenphop, whose wealthy family owns a luxury car dealership called Lenso Group, has not previously spoken publicly about the crash.
Today, as at previous court appearances, he declined to speak to a reporter about the case beyond complaining about the coverage, without elaboration.
"I hope that, as a reporter, you will present news about this case on factual basis, without assuming things," Jenphop told a reporter.
Yet outside the courtroom, he opened up on other topics, and mingled with Krissana's family. They made space for him on a bench and discussed his life, hobbies, favorite skincare brands and thoughts on current events.
Nongkarat Rungsang, sister of Krissana, said she had sympathy for Jenphop. After several meetings and conversations with him, she said she gathered that Jenphop had a troubled upbringing, caught between a protective mother and a distant father, which left him suffering from depression.
"When I learned about my brother's death, I immediately wanted to find out who this person is. Is he an evil man?" Nongkarat said. "Now I know that Jenphop is not a bad person, in his nature."
Although she has accepted Jenphop's heartfelt apology, Nongkarat said she still wanted to see him behind bars for the sake of the sanctity of legal system.
"It's about upholding the principle of the law," she said. "Otherwise, criminals will think they can escape the law."
After the session was adjourned, a reporter asked Jenphop to pose for a photograph, which he agreed to do outside the courtroom.
"Make sure I look handsome," he said, joking.
But when his mother heard about the plan, she objected and immediately took him into a waiting car before driving away.