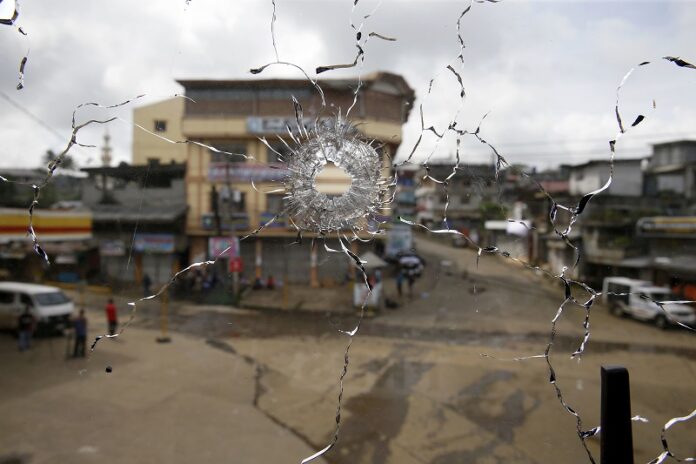 MARAWI, Philippines — An Australian journalist said he was fine after being hit by a bullet in his neck Thursday while covering the Philippine military's assault against militants aligned with the Islamic State group in a southern city.
A tweeted video showed ABC journalist Adam Harvey wearing a neck brace and putting on his helmet after receiving treatment Thursday in Marawi. He told reporters he was fine and that he was to get an X-ray.
ABC's Southeast Asia correspondent who is based in Indonesia was hit at the provincial capitol building in Marawi, where government officials have given statements to the media about the progress against the militants who've laid siege to Marawi since last month.
"Thanks everyone — I'm okay. Bullet is still in my neck, but it missed everything important," Harvey tweeted.
Dr. Jose Eric Laya said the bullet was lodged below Harvey's left ear.
Also Thursday, a suspected militant bomber was arrested in Cagayan de Oro City, about 100 kilometers (62 miles) from Marawi.
Brig. Gen. Gilbert Gapay says the suspect, Mohammad Noaim Maute, was under investigation.
The 24-day siege of the southern city has left 202 gunmen, 58 soldiers and policemen and 26 civilians dead. The most serious attack in Southeast Asia so far by IS-aligned militants has displaced most of the more than 200,000 residents of Marawi, the bastion of Islamic faith in the south of the predominantly Roman Catholic nation.
More than 1,600 residents have been rescued from the scenes of heavy fighting, many of them still shell-shocked and starving while some were wounded. Tales of love and heroism have emerged, including a group of trapped Muslim policemen who helped several Christian workers escape with them from the intense fighting.
Villager Saipoding Mariga waited in tear for days to be allowed to rescue his wife, Geraldine, who was trapped in a heavily bombarded neighborhood, but was not allowed by troops because of the grave danger. Facing TV cameras, he pleaded to be allowed to enter the conflict zone to save his wife.
Mariga eventually met his wife in a tearful reunion at Marawi's newly reopened Amai Pakpak hospital, where she was brought with a gunshot wound in her leg and shrapnel injuries on her body, ABS-CBN TV network reported Thursday.
"I hope you understand me. What's important is you recognize me and we saw each other again," Mariga told his wounded wife at the hospital's emergency ward. "That's what I need and that's what you need."