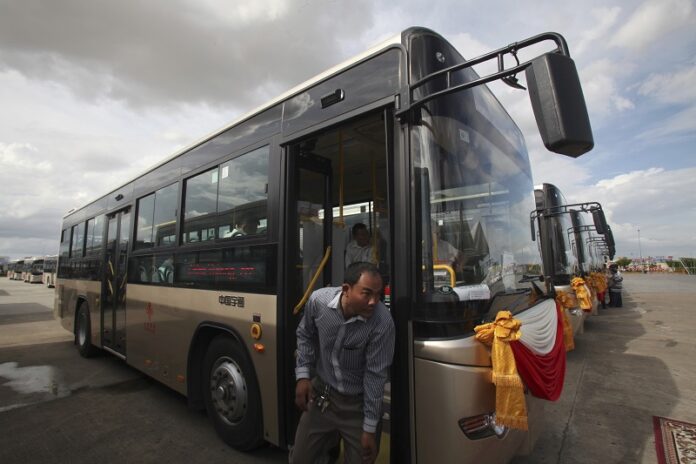 PHNOM PENH — China on Thursday turned over to Cambodia 100 buses to be used to expand public transportation in its capital, Phnom Penh.
The donation of the vehicles comes three years after municipal bus transportation was reintroduced in the capital. Currently, the city of roughly 2.5 million people has about 1.5 million motorbikes and more than 30,000 cars clogging its roads.
The value of the new buses was not announced. Labels on the buses indicated they came from China's Zhengzhou Yutong Bus Co., one of the world's leading bus producers.
China is Cambodia's most important political and economic ally. It has provided millions of dollars in aid and investment over the past decade, agreed to write off debts and granted Cambodia tariff-free status for hundreds of items. Cambodia in turn generally supports China's positions on international political issues.
Phnom Penh Mayor Khuong Sreng, said at the hand-over ceremony that the donation reflected the close relations between the two countries and would help reduce traffic jams and air pollution in the capital, as well as ease the burden of transport costs for the poor.
He said the donation is reflecting the strong relationship and good cooperation of the two countries, and also help Phnom Penh to reduce the traffic jams as well as air population and the poverty of the people.
In 2014, public bus service was reintroduced in Phnom Penh in an effort to ease traffic congestion. An initial effort at such service was tried in 2001, but was canceled after two months due to a lack of interest from the largely motorbike-riding public. Motorbike taxis are a popular form of transport, as they are in many Southeast Asian nations.
Story: Sopheng Cheang