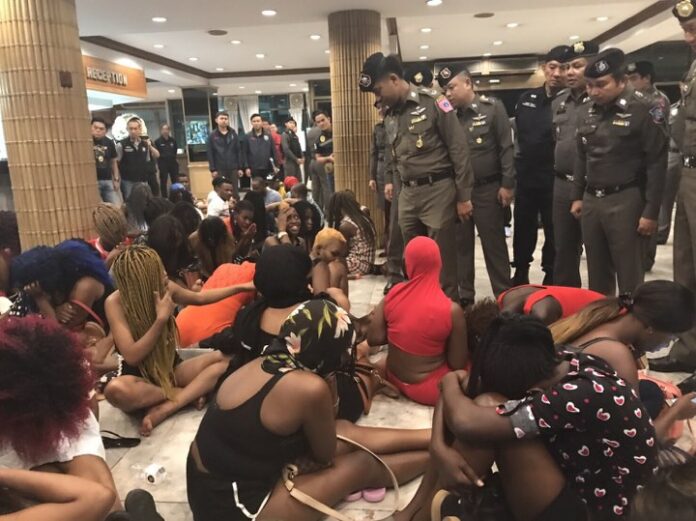 BANGKOK — More than 80 foreigners were detained Thursday night during a combined military and police raid in Bangkok's red light district.
The operation in Soi Nana 4 – which was not backed by a court warrant – was specifically targeting "black people," according to the commander of the raid. Seventeen people ended up being charged with visa violations.
"We have received complaints from both residents and foreign tourists that there was prostitution and black people plotting criminal acts in the area," Surachet Hakpan, head of the 191 emergency response unit, said by phone Friday. "They caused a nuisance to people in the area."
A force of about 100 military and police officers raided the district at about 2am. More than 80 people were detained then given drug tests. One person tested positive for narcotics use, police said.
Seventeen people also lacked relevant travel documents or had overstayed their visa, Maj. Gen. Surachet said. They were subsequently charged with visa violations and sent to an immigration detention center, pending deportation.
When inquired about the suspects' nationalities, Surachet described them as "Africans," though he later added that most were Ugandan nationals.
"The operation was meant to build confidence and a sense of security for people and tourists in the area," the major general said. "When tourists walk around the area, these people nag them, to buy goods, or to solicit prostitution."
He added that officers did not obtain any court warrant for the raid, since it was led by soldiers who acted on a special order granted by the junta, which allows them to detain individuals and search properties without a warrant.
Related stories:
Foreigners Arrested in Raid on Nana 'Ethiopian Restaurant'