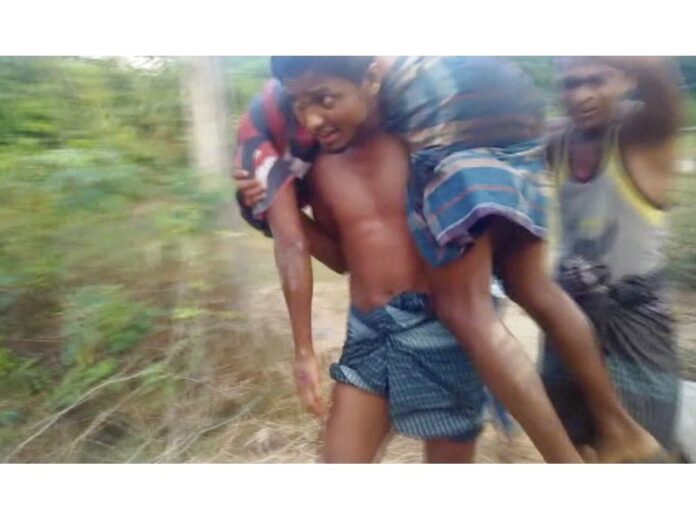 BANDARBAN, Bangladesh — The young Rohingya couple fleeing violence in Myanmar had escaped with their family to nearby Bangladesh, where they spent days living in a hastily built shelter on a muddy hill. For the sake of the Muslim holiday of Eid al-Adha, they decided to return home briefly, for a quick bath and clean clothes.
The man's brother soon followed them – to retrieve their bodies.
"Kefayet Ullah's brother has been slaughtered near the fence!" a man shouts in a cellphone video as a cousin carries Jarullah's body, blood from the corpse pouring down his back. "They cut his hands and legs and belly also."
Kefayet Ullah carried his dead sister-in-law. Wailing and moans – "Oh, Allah!" – can be heard in the video as the group encounters villagers along the wooded path.
Ullah said he couldn't bear the thought of leaving his loved ones behind, and so risked his life to bring back their bodies so they could be buried in peace. There was also one life left to save: the couple's 2-year-old son, who was found near his parents' bodies.
Like untold numbers of people, Ullah and his family have been caught up in the latest violence to ravage Rohingya villages in northern Rakhine state, in the northwest corner of majority-Buddhist Myanmar. Many have seen their homes burned to the ground. More than 120,000 have fled for safety in neighboring Bangladesh in less than two weeks since the violence began.
The Myanmar government said it conducted security "clearance operations" to root out Rohingya insurgents who attacked at least two dozen police posts with machetes and rifles.
Rohingya see the violence that followed the insurgent attacks as something more: a campaign to rid the country of a minority seen by Myanmar's authorities as unwanted outsiders. They were denied citizenship and rights by the country's former military rulers. And life has only gotten worse for many since an elected government headed by Nobel Peace Prize winner Aung San Suu Kyi took over.
On Aug. 28, three days after the violence began, Ullah and his family fled, leaving behind their ancestral home, a shop and 10 acres of farmland.
"The government ordered the military to come to our villages and to shoot the people who were older than 8," Ullah said in a small forest clearing near the refugee-packed seaside city of Bandarban where he buried his brother and sister-in-law.
Two simple mounds of earth marked the spot. He brushed fallen leaves from the unmarked graves.
In some areas, he said, "they started attacking people and raping the girls and women. They were burning down the houses."
He paused to fill in holes left in the earth by the hooves of cattle that had wandered through the makeshift cemetery. Across the road, his parents, pregnant wife and three sons huddled under a sheet of plastic propped haphazardly up on bamboo poles.
For the moment, they are safe – one of many families occupying a muddy patch sticking out of the Naf River in what is essentially a no-man's-land between the borders of Myanmar and Bangladesh. But Ullah said he wasn't sure how long they could manage in their squalid shelter. There is no clean water, and no access to toilets.
Refugee camps in Bangladesh have filled beyond capacity, and tens of thousands are squatting in the open. Meanwhile, Rohingya continue to pour in through several open areas along the barbed-wire border fence, or aboard smugglers' rickety wooden boats.
Even now, the family yearns to go back to their village near the border, the only home Ullah has known.
"Even my grandfather's father was born there," he said. But said he has realized they may never return. Ultra-nationalist Buddhist monks call his people "Bengali" – meant as a derogatory term implying they were illegal immigrants from neighboring Bangladesh.
"The monks say that we came from Bangladesh and India. They say you are not the people of this land. 'You go from this place,'" he said.
"They think, 'If we burn down Rohingya houses and kill the Rohingya people and slit their throats, then the number of Rohingya people will decrease,'" he said, his voice breaking. "That's why they say there's no need to give us citizenship."
Ullah's home in Maungdaw township is fairly close to the barbed-wire fence that marks much of the Myanmar-Bangladesh border. In other places, the Naf River separates the countries.
The home was close enough that Jarullah, 25, and his 21-year-old wife, Ayesha Bibi, decided to return Saturday morning.
Kefayet Ullah said Jarullah called within minutes of their return and told him soldiers and monks had surrounded their home.
Then, the phone went silent.
Ullah said a terrified cousin managed to escape behind some bushes and watched. He told Ullah the mob first looted the house of its valuables, then killed the couple after demanding money and gold from them.
Ullah said he felt he had no choice but to bring the bodies back. He and his cousin snuck across the border once again to do it.
They buried them later Saturday, the main day of Eid al-Adha.
Story: Muneeza Naqvi