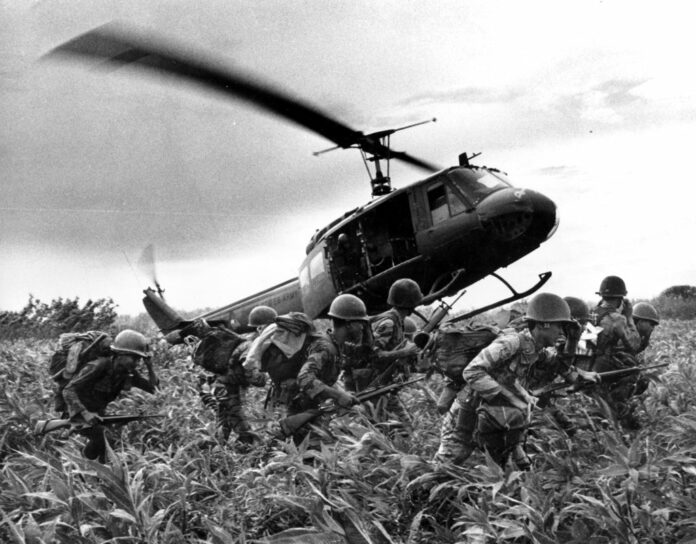 HANOI, Vietnam — It's been over for 40-plus years, the war that Americans simply call Vietnam but the Vietnamese refer to as their Resistance War Against America.
Yet it lingers in so many ways, as was apparent this week when Defense Secretary Jim Mattis dropped in for a couple of days of defense diplomacy with a former enemy. Although he never served in Vietnam and had not previously visited the country, Mattis has said he learned from a lot of Marines who did.
In his meeting with Vietnamese government leaders, Mattis' focus was on a peaceful future. Not the bloody past.
Still, the legacy of the conflict that divided America and ultimately unified Vietnam confronted Mattis almost immediately after his arrival on Wednesday as he visited a U.S. office that oversees the search for remains of American servicemen still missing from the war.
More than 1,200 Americans are unaccounted for in Vietnam and 350 more are missing in Laos, Cambodia and China, according to the Pentagon's POW-MIA Accounting Agency. That accounting effort, decades in the making and dependent on cooperation from Hanoi, is likely to continue for decades.
Later, while talking to his Vietnamese counterpart, Mattis was presented with photo identification cards of two U.S. servicemen from the war. Details weren't made public.
More than 58,000 U.S. service members were killed in the war, including more than 1,200 in Cambodia and Laos.
Estimates of the number of Vietnamese killed vary widely, from about 2 million to nearly twice that. For the Vietnamese, the war was a continuation of their fight for independence from French colonial masters. And it was quickly followed by a border war with China in 1979. The country reunified and remains communist, although it has opened up to foreign investment. Hanoi is a bustling, vibrant capital city.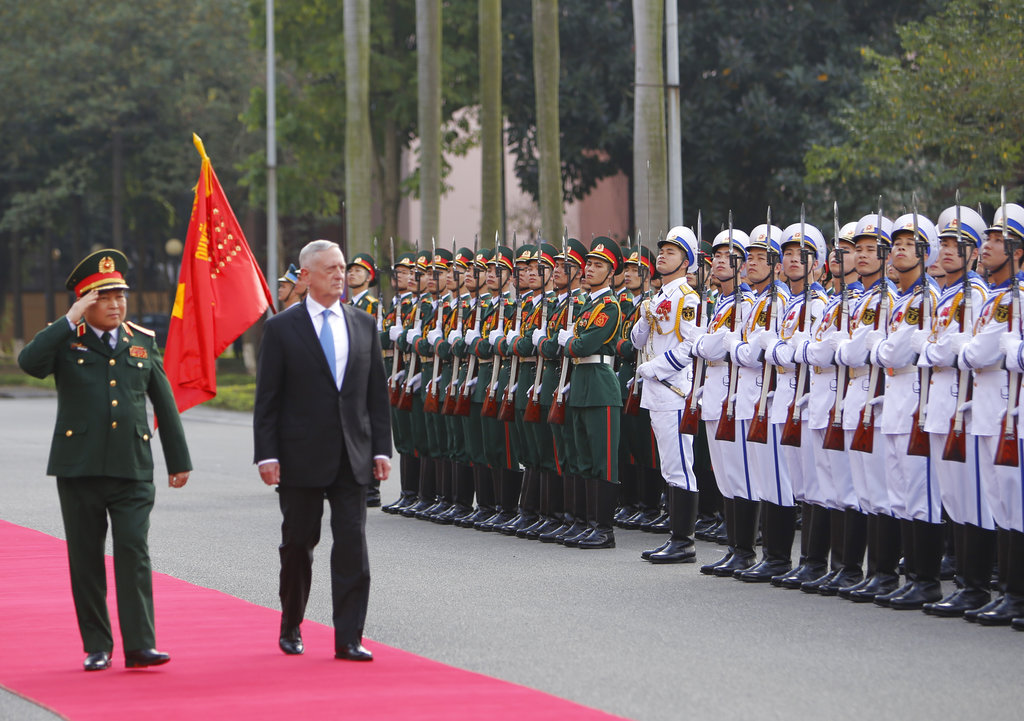 Among Vietnam's other reminders of the war: environmental damage and unexploded mines. Vietnamese still suffer from the effects of herbicides, including Agent Orange, sprayed by U.S. forces to defoliate the countryside.
"We're still remediating the effects of the war," Mattis told reporters Thursday as he flew out of the country. The U.S. government has helped clean up contamination from bases American forces used before completing their withdrawal in 1975. Last year the U.S. and Vietnam finished the first phase of dioxin cleanup at Danang airport.
Remarkably, given this history, Vietnam indicated during Mattis's visit that it may permit a U.S. Navy aircraft carrier to make a port visit in March — something that has never happened in the postwar period.
Just down the street from the hotel where Mattis stayed is Hoa Lo prison, known to the Americans who spent part of the war there as the Hanoi Hilton. Inside are dark reminders of the suffering, the sacrifice and the shackles — not just of the Americans held there but also Vietnamese imprisoned in earlier decades by the French.
One of those American prisoners was John McCain, shot down on a bombing mission over Hanoi in 1967, before the U.S. anti-war movement was in full swing. Along the lake from which a badly injured McCain was recovered by his captors stands a concrete marker depicting the captured pilot and noting that his Navy plane was one of several shot down that day.
Mattis' motorcade drove by the McCain marker as the Pentagon boss made his way to a lakeside pagoda to show his respect for Vietnamese culture. He told the monk there that he enjoyed the serene setting.
"Beautiful. Peaceful. It makes you think more deeply," Mattis said.
By coincidence, Mattis' visit came just days before the Vietnamese marked the 50th anniversary of the Tet Offensive. That series of assaults by the North Vietnamese was timed to coincide with Tet, the Lunar New Year holiday, on Jan. 31, 1968. Militarily it was a failure, but the offensive marked a turning point in the war because it punctured American hopes of certain and swift victory. After Tet, the U.S. began to focus less on how to win and more on how to get out.
Even with past hostilities in mind, Mattis said his visit made clear that Americans and Vietnamese have shared interests that in some cases predate the Vietnam War.
"Neither of us liked being colonized," he said.
Story: Robert Burns