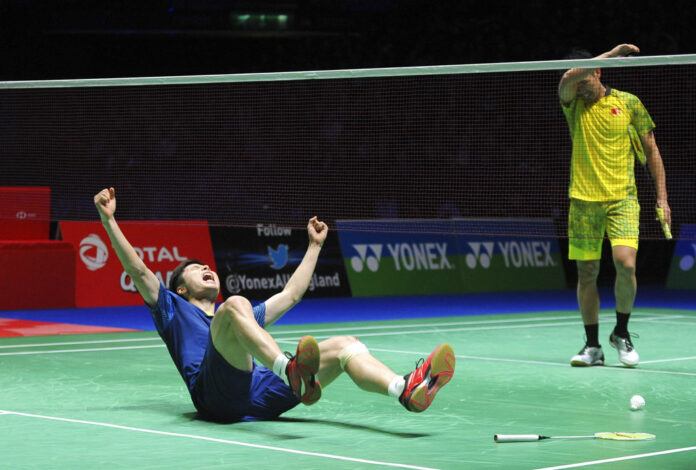 BIRMINGHAM, England — Seventh-seeded Shi Yuqi beat six-time champion Lin Dan 21-19, 16-21, 21-9 Sunday in a major upset at the All England Championships to win the men's singles title.
The 22-year-old Shi was given time and room to make use of his speed and well-disguised overhead attacks against badminton great Lin in the all-Chinese final.
The 34-year-old left-hander Lin would have been the oldest player in 63 years to win the title.
Shi had a one-sided loss to Lee Chong Wei of Malaysia in last year's final.
Lin's play revived in the second game before Shi was allowed to grow in confidence.
"I was more patient and controlled my pace, which helped me get the match back," said Shi. "I am quite young and in good condition, and this all played a part."
Lin said he was pleased to still be playing "at this level," adding that "I feel good about myself and I want to congratulate my younger opponent."
Lin became the first player to appear in 10 All England men's singles finals, and it was the first all-Chinese men's final for a decade. But it was the only title which China, once dominant in all events, was able to win.
Top-ranked Tai Tzu Ying of Taiwan became the first women's singles player in more than a decade to successfully defend her title. Tai saved a game point in the first game before beating second-ranked Akane Yamaguchi of Japan 22-20, 21-13.
Tai wasn't pleased with her performance despite winning.
"I made a lot of mistakes, and in the end I just had to run with her," Tai said, with reference to taking a more patient approach with one of the game's most tenacious movers. "I would like to come back again next year and play better."
Unseeded Yuta Watanabe and Arisa Higashino became the first Japanese pair to win the mixed doubles title. They beat fifth-seeded Chinese pair, Zheng Siwei and Huang Yaqiong, 15-21, 22-20, 21-16.