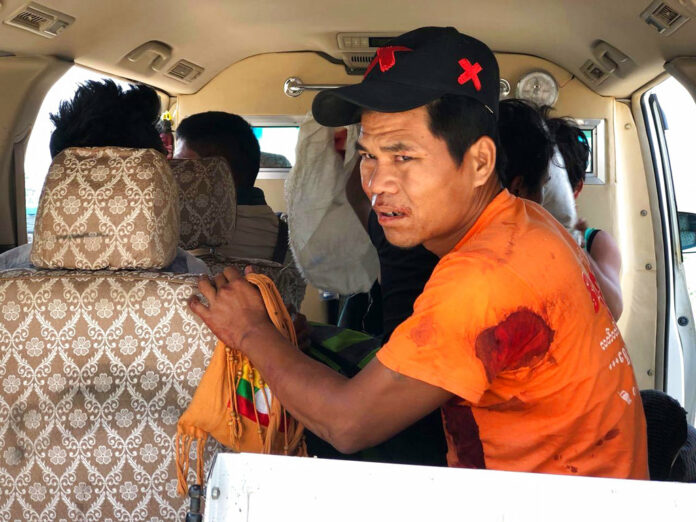 YANGON — An ethnic rebel group launched an attack against Myanmar's military in a northern town on Saturday, leaving at least 15 people dead and 20 injured, including civilians, officials said.
The Ta'ang National Liberation Army launched three attacks just after 5 a.m. in the town of Muse in Shan state, government spokesman Zaw Htay said on Facebook. Two of the attacks occurred at military bases and the other at a bridge.
The TNLA is among more than a dozen ethnic rebel groups that have been fighting the central government for greater autonomy for decades. In the past few months, clashes between rebels and the military in Myanmar's northeastern region have intensified, resulting in thousands of displaced in neighboring Kachin state.
Myanmar's army has been criticized for extrajudicial killings, torture, forced labor, rape and other abuses against the country's many minority groups.
Aye Myint, a police officer in Muse, said the death toll was 19, and that rebel fighters used small arms as well as mortars. Video on social media showed smoke rising above Muse's prominent trading center.
Nan Mwe Phown, a Red Cross member who was at a hospital in Muse, said the dead included 13 male civilians and two women, one of whom was pregnant, as well as several police officers.
The army has been separately accused of systematic human rights violations against the Rohingya Muslim minority in the western state of Rakhine, forcing more than 700,000 Rohingya to flee to neighboring Bangladesh since last August.
On Saturday, protesters calling for an end to the violence in Kachin and elsewhere in the country scuffled with police in Yangon. Eight demonstrators were arrested, police said.
The protest organizers had been informed earlier in the week that the event was denied permission. Authorities said the protest would violate a previously issued order that banned protests in 11 of Yangon's 14 townships.
About 200 activists walked slowly through the center of Yangon, Myanmar's biggest city, chanting and carrying banners saying "Stop the war" and "Give peace a chance."
About 100 police stood in a line to block their path, leading to some scuffles and a number of arrests.
In addition to Saturday's arrests, at least nine activists across Myanmar were detained, charged or sentenced over the past week for organizing or participating in protests calling for an end to the violence and denial of safe passage to displaced people in Kachin state.