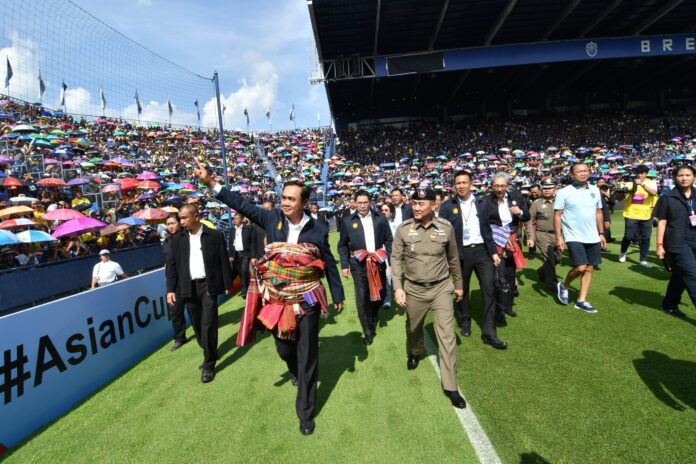 BANGKOK — The majority of respondents to a recent poll said they would elect junta leader Gen. Prayuth Chan-ocha as prime minister in upcoming elections – though they said they would give Pheu Thai party the most votes.
The poll, organized by National Institute of Development Administration, a state university, asked 1,250 people from across the kingdom aged 18 and above between Tuesday and Wednesday.
Prayuth was chosen by 32.2 percent of respondents, followed by likely Pheu Thai party candidate Sudarat Keyuraphan, who received 17.4 percent of the vote. Third was Democrat Party leader Abhisit Vejjajiva at 14.2 percent. Rookie politician and leader of Future Forward Party Thanathorn Juangroongruangkit came fourth with 10 percent of the vote, while fifth place went to caretaker Pheu Thai Party leader Lt. Gen. Viroj Paoin.
Asked which political party people would vote for, Pheu Thai came first at 32.1 percent. Newly-formed Palang Pracharat Party – which openly supports Prayuth as prime minister – was chosen by 25.1 percent of respondents. At number three and close behind was the Democrat Party, with 19.2 of the vote. Future Forward Party came fourth at 11.6 percent.
Asked if they believed elections would take place in February, 57.7 percent of respondents said they were not confident, citing lack of readiness, repeated deferment and the kingdom's political situation – which they said is still not normal. Thirty one percent of respondents said they thought the government was ready to hold elections.