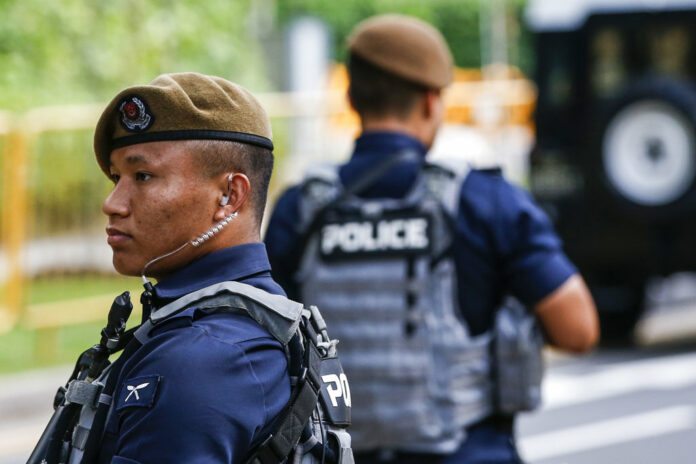 SINGAPORE — To protect one of the highest-profile diplomatic events so far this century, Singapore has enlisted the help of its fearsome Nepalese fighters whose large curved knives, according to custom, must "taste blood" whenever they're drawn.
Wearing brown berets and equipped with body armor and assault rifles, the elite Gurkha police officers are a conspicuous part of the enveloping security force Singapore has deployed for Tuesday's summit between President Donald Trump and North Korean leader Kim Jong Un.
The meeting, which could prove to be a crucial moment in the global diplomatic push to resolve the nuclear standoff with Pyongyang, has sent the highly manicured city-state into security overdrive. Trump and Kim have brought their own personal security personnel and heavily armored limousines; Kim's bodyguards have been seen running in formation alongside his massive Mercedes.
Selected among young men from impoverished Nepal, Gurkhas have been part of Singapore's police force since 1949. There are reportedly about 1,800 Gurkha officers in Singapore, and they are a regular presence at high-security events. On Monday, they were seen standing guard at the heavily fortified St. Regis Singapore, where Kim arrived Sunday afternoon.
"This is a moment of pride to see the Gurkhas responsible for guarding such an important event," said Krishna Kumar Ale, who served for 37 years in the British army before retiring back home in Nepal. "It shows that we Gurkhas have reached a point where we are trusted with the security of two of the most important people in the world."
In 2015, during the Shangri-la Dialogue, a Singapore summit that includes defense ministers and top security officials from around the world, a Gurkha officer shot and killed a driver after his car breached a series of roadblocks outside the summit's venue. The incident turned out to be drug-related, not an attack.
When asked about the scale of security operations for the summit, Singapore's Law and Home Affairs Minister K. Shanmugam said Sunday that more than 5,000 police had been deployed. The Gurkha Contingent is a special police unit inside the force.
"I think the fact that it had to be put together in two weeks … added tremendously to the pressure and logistics, the demands. But I think the officers have worked around the clock, we are quietly confident that they have put in place the preparations," he said.
Singapore is not new to hosting high-profile events, including International Monetary Fund and World Bank Group meetings, and Association of Southeast Asian Nations summits in 2007 and 2018.
Gurkhas, whose name derives from the Nepalese hill town of Gorkha, have been deployed in major conflicts and wars since becoming part of the British army in the 19th century. More than 200,000 Gurkhas fought in the two world wars, where they won admiration for their combat skills and bravery, living up to their traditional motto "It's better to die than to be a coward." Gurkhas also fought in the Falklands conflict, the Gulf War, Bosnia, Kosovo and Afghanistan.
The British experienced Gurkhas' fierceness firsthand after suffering heavy losses during their invasion of Nepal. A peace deal signed by the British East India Company in 1815 allowed Britain to recruit troops from Nepal.
After Indian independence in 1947, Britain, Nepal and India reached an agreement to transfer four Gurkha regiments to the Indian army. Former British colonies Singapore and Malaysia have also employed Gurkhas for their police and army, respectively.
In Nepal, getting picked to serve as Gurkha soldiers and officers overseas is seen as a ticket out of poverty. According to Nepal's Gurkha Army Ex-Servicemen Organization, over 10,000 applicants try out every year for about 260 places in the British army's Gurkha units. Many train for months for the selection process, which includes a grueling "doko" race, which involves carrying 25 kilograms (55 pounds) of sand while running a steep 4.2-kilometer (2.6-mile) uphill course.
Along with their modern weapons, Gurkhas still carry the traditional "kukri," a long curved knife which tradition says must "ragat khaikana" – taste blood – once it is drawn.
"That is no longer the current practice … mostly," said the Gurkhas Australia website.
Story: Annabelle Liang, Kim Tong-hyung