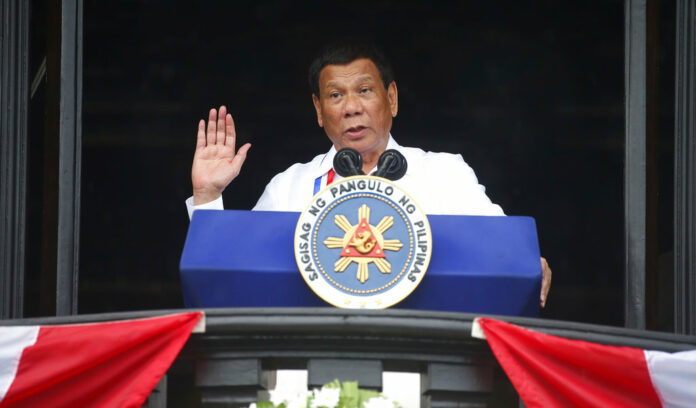 KAWIT, Philippines — A group of left-wing activists heckled and disrupted a televised Independence Day speech Tuesday by the Philippine president and called him a "traitor" amid criticism of his handling of territorial disputes with China.
President Rodrigo Duterte briefly halted his speech during the commotion and calmly watched from a historic balcony in Kawit town south of Manila as police pulled the protesters away. He asked law enforcers to deal with the protesters "with maximum tolerance" as the audience, which included ambassadors, waited.
"Just let them … our constitution guarantees freedom of the press, freedom of assembly and expression," Duterte said as the small but rowdy group of young protesters yelled, "Oust Duterte," "Traitor," and "Fascist."
The president later resumed his speech, which focused on his battle against illegal drugs, corruption and terrorism, in the house in Cavite province where Philippine independence from Spain was declared on June 12, 1898.
"We may not understand each other but, at least, there is a common denominator, and that is love of country," Duterte said. "Nobody but nobody can ever question my love for the country."
Duterte has come under fire from critics who say he has been far too soft on China over contested South China Sea territories. Officials say his close engagement with China has fostered talks over the long-seething disputes and won Chinese infrastructure funds, trade and investment.
Critics, however, said Duterte's approach has further emboldened China with its increasingly assertive actions in one of the world's busiest waterways. They cited reports that Chinese coast guard officials have repeatedly boarded Philippine fishing boats and taken their fish catch in recent months at disputed Scarborough Shoal, which was seized by China from the Philippines after a tense standoff in 2012.
China allowed Filipinos to return and fish at Scarborough after Duterte rekindled relations with Beijing after he took office in 2016.
"It is a complete foreign policy disaster. … It betrays our heroes' struggle for independence against foreign colonizers," opposition Sen. Risa Hontiveros said.
Hontiveros cited Duterte's refusal to demand immediate Chinese compliance with a 2016 arbitration ruling that invalidated China's vast claims to the South China Sea and upheld the Philippines' sovereign rights to vast stretches of waters.
On the sidelines of the Kawit ceremony, Duterte briefly discussed the Chinese coast guard's reported actions against Filipino fishermen with Chinese Ambassador Zhao Jianhua, who later told reporters that Chinese authorities are investigating the reports.
If the reports are true, "let's view it as an isolated incident," Zhao said, adding that such incidents should not affect the improved ties between the Asian neighbors.
"If we have bad apples, you know what I'm going to do? I'm going to throw them into the South China Sea and feed the fish," Zhao said in jest.
"China has made appropriate arrangement for the Philippine fishermen to fish in relevant waters out of goodwill," the Chinese Embassy in Manila said in a statement. "This policy remains unchanged."
Malaysia, Vietnam, Taiwan and Brunei also claim the South China Sea partly or in its entirety. Tensions escalated in recent years after China turned seven disputed reefs into islands that rival claimants fear could be used as a springboard for its military to fortify its claims.
Story: Bullit Marquez