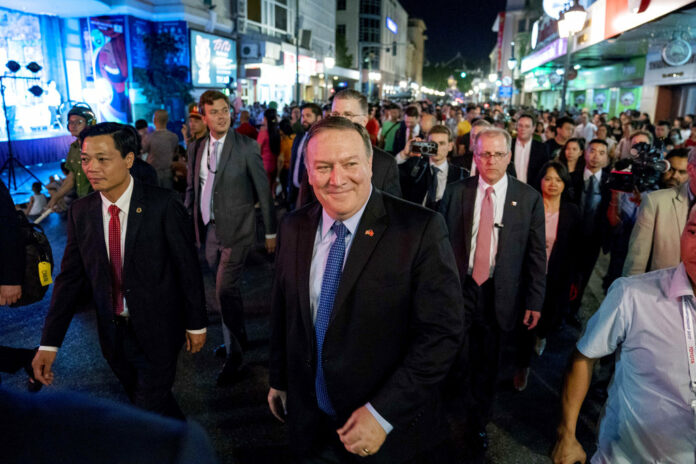 HANOI — U.S. Secretary of State Mike Pompeo on Monday extolled improved relations with Vietnam as a model for rapprochement with North Korea.
Pompeo met with senior Vietnamese officials, including the prime minister and foreign minister in Hanoi, after weekend stops in Japan and North Korea, where he has been seeking progress in denuclearization negotiations with the North.
"In America we consider our relationship with Vietnam to be incredibly special," Pompeo told Foreign Minister Pham Binh Minh.
In Vietnam, Pompeo was looking for increased cooperation from Hanoi on enforcing sanctions on North Korea, which he said would not be lifted until it fully dismantled its nuclear weapons program in a transparent and verifiable way.
"We would like to thank you for your support with respect to our efforts in North Korea," Pompeo told Pham.
Despite Pompeo characterizing his talks in Pyongyang as productive, North Korea reacted angrily to what it called "gangster-like" demands from the U.S. Pompeo brushed that rebuke aside, saying that if the demands were indeed gangster-like then the "world is a gangster" because the sanctions are not different from what the U.N. Security Council has demanded in several unanimous resolutions.
In Hanoi on Sunday, Pompeo appealed to North Korean leader Kim Jong Un to replicate Vietnam's dynamic economic growth by embracing normalized ties with the U.S. He says the evolution of post-conflict relations between the U.S. and Vietnam is proof that America's foes need not remain enemies.
Pompeo is at the midpoint of a round-the-world trip that will take him to the United Arab Emirates and then Brussels, Belgium, where he will accompany President Donald Trump to a summit of NATO leaders.
Story: Matthew Lee