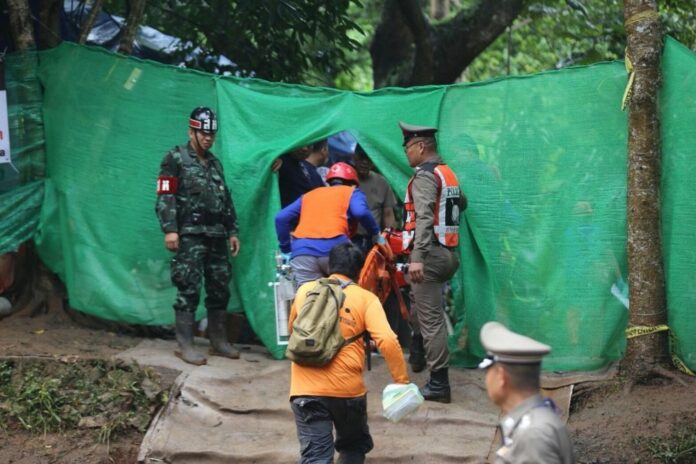 By Jintamas Saksornchai and Todd Ruiz
CHIANG RAI — Ambulances have been moved and preparations made Monday to rescue the second batch of boys from the flooded Luang Khun Nam Nang Non cave.
After the rescue of four young footballers Sunday buoyed spirits and hope, the team of expert foreign and Thai divers is getting back into the water for what's hoped to be a repeat performance.
Junta leader Gen. Prayuth Chan-ocha, who serves as prime minister, is expected to arrive at 5pm today.
Update: Seven Out Alive: More Daring Cave Rescue Success!
A press briefing was to be held shortly.
Interior minister Anupong Paojinda on Monday said the same divers who took part in Sunday's rescue of four boys trapped in a flooded cave will also conduct the next operation as they know the cave conditions and what to do.
Read: Watch the Medevac of 2 Luang Cave Boys
Anupong said divers need to place more air canisters along the underwater route to where the boys and their coach have been trapped since June 23. The process can take several hours.
The boys rescued Sunday are strong and safe but need to undergo detailed medical checks, according to Anupong.