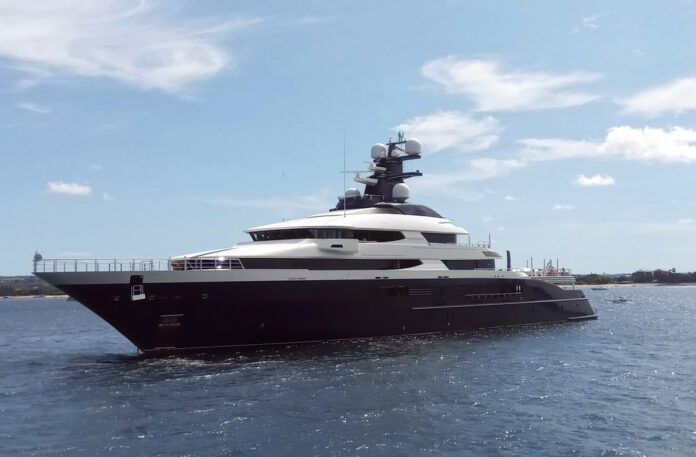 JAKARTA — Indonesia is returning a luxury yacht allegedly bought with funds stolen from a Malaysian state investment company after a months-long legal battle, a police official said Sunday.
The USD$250 million Equanimity is on its way to a border location where it will be transferred to Malaysia, said Daniel Silitonga, deputy director of economic crimes at Indonesia's national police. He said the yacht is currently near Batam island close to Singapore, but declined to say when or where the transfer will happen.
Indonesian police working with the FBI seized the yacht off Bali in February but faced a legal challenge from a Cayman Islands company registered as its owner.
The U.S. Justice Department, one of several foreign agencies investigating the alleged multibillion dollar looting of the 1MDB state fund by associates of former Malaysian Prime Minister Najib Razak, had listed the yacht among the assets it could seize and sell to recover stolen funds.
"We will hand over the yacht soon," Silitonga said. "Special arrangements have been made by the two countries based on good relations."
At the time of the seizure, Malaysia was not cooperating with international investigations into 1MDB. But the massive corruption scandal in May led to the electoral defeat of Najib, who is now facing charges.
Malaysian and international authorities want to question Malaysian financier Jho Low, who the Justice Department alleges was a key figure in the theft and international laundering of $4.5 billion from 1MDB.
Low, who has so far evaded investigators, issued a statement through his U.S. attorney on Sunday, protesting the handover of the yacht.
"Actions like this make it increasingly clear that there is no jurisdiction where the issues in this case can be subject to a fair hearing, thanks to a global media circus fueled by politically motivated parties whose aim is to convict Mr. Low in the public arena," the statement said.
The Equanimity's lavish amenities include a helicopter landing pad, plunge pool, gymnasium and a cinema.
It was built in 2014 by the Dutch yacht manufacturer Oceano, which received detailed instructions from Low about its outfitting, according to the Justice Department's asset recovery case.