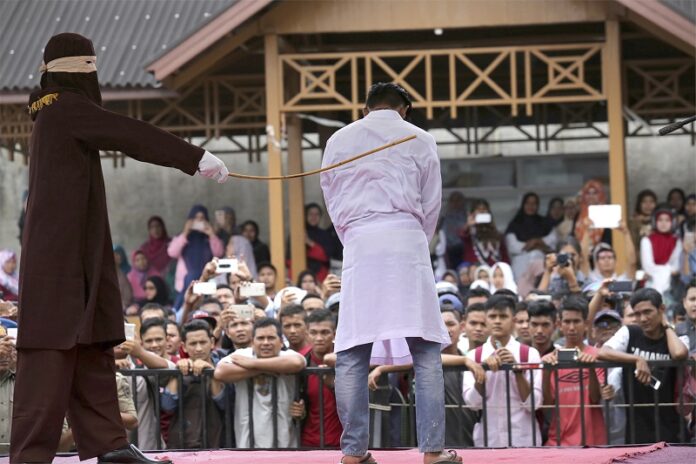 KUALA LUMPUR — Amnesty International on Wednesday urged Malaysia to quash a caning sentence for a lesbian couple, calling the punishment cruel and unjust.
Two unidentified ethnic Malay women, aged 22 and 32, had pleaded guilty for attempting to have sexual intercourse and were sentenced to six strokes of a cane and fined by a Shariah court earlier this month.
The caning in northeast Terengganu state was due Tuesday but reportedly postponed to Sept. 3 due to technical reasons. Court officials couldn't be immediately reached for comment.
Amnesty's Malaysian director Gwen Lee welcomed the deferment but said a delay was insufficient.
"We are pleased that the cruel and unjust punishment that was handed down to these two women did not take place as scheduled," Lee said in a statement. "However, a delay is obviously not enough. Both women must now have their sentences quashed immediately and unconditionally to reverse this injustice once and for all."
Amnesty urged Malaysia to "end the use of caning and repeal the laws that impose these torturous punishments completely."
Nearly two-thirds of Malaysia's 31 million people are Muslims, who are governed by Islamic courts in family, marriage and personal issues.
The international rights group also said the court's decision occurred amid growing concern of a climate of fear and discrimination against people in Malaysia's lesbian, gay, bisexual and transgendered community.
It said a few weeks ago, authorities removed the portraits of two LGBT rights activists from a public exhibition. Malaysia's religious minister Mujahid Yusuf later said the government doesn't support the promotion of LGBT culture in the country. A transgender woman was also beaten up by a group of people in a southern state this month.