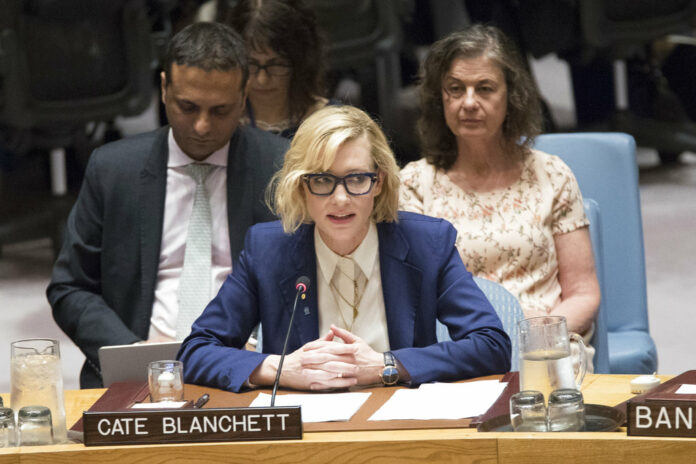 UNITED NATIONS — Oscar-winning actress Cate Blanchett told the U.N. Security Council on Tuesday that nothing prepared her for "the extent and depth of suffering" she saw when she visited camps in Bangladesh for Rohingya Muslim refugees who fled a violent crackdown by Myanmar's military.
In her very different role as a goodwill ambassador for the U.N. refugee agency, Blanchett said she heard "gut-wrenching accounts" of torture, rape, people seeing loved ones killed before their eyes, and children thrown into fire and burned alive.
"I am a mother, and I saw my children in the eyes of every single refugee child I met," she said. "I saw myself in every parent. How can any mother endure seeing her child thrown into a fire?"
The two-time Academy Award winner said: "Their experiences will never leave me."
The Rohingya have long been treated as outsiders in Buddhist-majority Myanmar, even though their families have lived in the country for generations. Nearly all have been denied citizenship since 1982, effectively rendering them stateless, and they are also denied freedom of movement and other basic rights.
The latest crisis began with attacks by an underground Rohingya insurgent group on Myanmar security personnel last August in northern Rakhine State.
Myanmar's military responded with counterinsurgency sweeps and has been accused of widespread rights violations, including rape, murder, torture and the burning of Rohingya homes and villages – leading about 700,000 Rohingya to flee to neighboring Bangladesh.
The Security Council meeting on Tuesday commemorated the first anniversary of the crackdown.
Blanchett, who visited refugee camps in Bangladesh in March, recounted stories that were told to her and said it was important to recall that last year wasn't the first attack on the Rohingya.
In 1978, she said, Gul Zahar told her she was a young woman among 200,000 Rohingya refugees who streamed into Bangladesh "fleeing brutality and widespread abuse." In 1992, Gul was again among another 250,000 stateless Rohingya who sought safety in Bangladesh. And now at age 90, Blanchett said, Gul is "sadly" a refugee again living in poverty in Bangladesh "with the sole wish that her great grandchildren will have a better future."
"The need for this future to transpire inside Myanmar has never been more urgent," Blanchett said. "If we fail to act now, Gul's grandchildren, like thousands of others, will be unable to escape this relentless cycle that generations of Rohingya have experienced."
The Australian actress said women who were raped by Myanmar security forces are now giving birth to children who are not only stateless but "are likely to carry this stigma for the rest of these lives."
She urged support for the refugees and Bangladeshi host communities, and she implored the Security Council to help the Rohingya return with "a clear pathway to full citizenship."
"We have failed the Rohingya before," Blanchett said. "Please, let us not fail them again."
Story: Edith M. Lederer