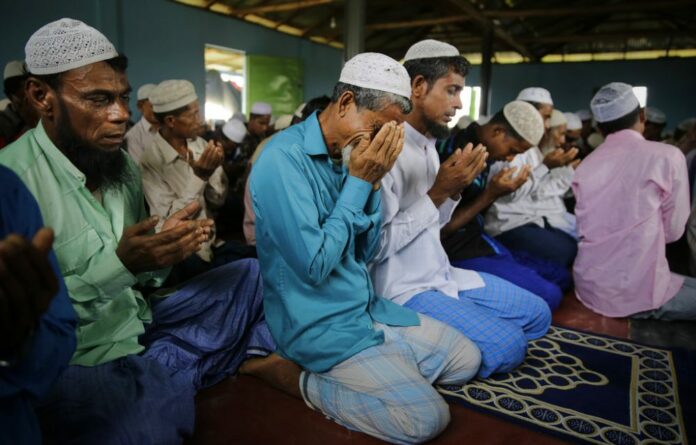 THE HAGUE, Netherlands — Judges at the International Criminal Court ruled Thursday that the court has jurisdiction to investigate widespread allegations that Myanmar forces have driven hundreds of thousands of Rohingya Muslims from their homes.
The decision opens up the possibility of crimes against Rohingya people being prosecuted at the Hague-based court, even though Myanmar is not a member of the court.
The court said in a statement that Prosecutor Fatou Bensouda must take the jurisdiction ruling into account "as she continues with her preliminary examination concerning the crimes allegedly committed against the Rohingya people."
It said the probe, which aims to establish whether there is sufficient evidence to launch a full-blown investigation, "must be concluded within a reasonable time."
Bensouda has not formally announced a preliminary examination, but the judges in their ruling said that prosecutors' work so far studying the Rohingya issue serves that purpose.
Richard Dicker, international justice director for Human Rights Watch, told the AP: "This is a crucial step for accountability for crimes against the Rohingya and will rock a lot of boats."
Bensouda asked earlier this year for a ruling on jurisdiction, arguing that while the Rohingya were forced from their homes in Myanmar, part of the crime involved them being driven across the border into neighboring Bangladesh, which is a member of the court.
There have been widespread reports of atrocities committed against the Rohingya minority in Myanmar.
Last week, investigators working for the U.N.'s top human rights body said that Myanmar military leaders should be prosecuted for genocide against Rohingya Muslims, taking the unusual step of identifying by name six of those it says were behind systematic crimes targeting the ethnic minority.
The call amounted to some of the strongest language yet from U.N. officials who have denounced alleged human rights violations in Myanmar since a bloody crackdown began last August.
The three-member "fact-finding mission" and their team, working under a mandate from the U.N.-backed Human Rights Council, meticulously assembled hundreds of accounts from expatriate Rohingya, as well as satellite footage and other information for the report.
Such reports will likely be closely studied now by prosecutors at the ICC.
Thursday's ruling said that the court also can exercise jurisdiction over other crimes, "such as the crimes against humanity of persecution and/or other inhumane acts."
Myanmar declined to file a formal response to the court as it considered the jurisdiction issue.
The Rohingya have long been treated as outsiders in Buddhist-majority Myanmar, even though their families have lived in the country for generations. Nearly all have been denied citizenship since 1982, effectively rendering them stateless, and they are also denied freedom of movement and other basic rights.
The latest crisis began with attacks by an underground Rohingya insurgent group on Myanmar security personnel last August in northern Rakhine State.
Myanmar's military responded with counterinsurgency sweeps and has been accused of widespread rights violations, including rape, murder, torture and the burning of Rohingya homes and villages – leading about 700,000 Rohingya to flee to neighboring Bangladesh.
"The judges' decision offers a glimmer of hope for justice for the thousands of Rohingya victims who were deported to Bangladesh from Myanmar and continue to suffer in Bangladesh as a result of this serious crime," said Adilur Raman Khan, a vice-president of the International Federation for Human Rights.
He urged prosecutors to swiftly open an investigation.
Story: Mike Corder