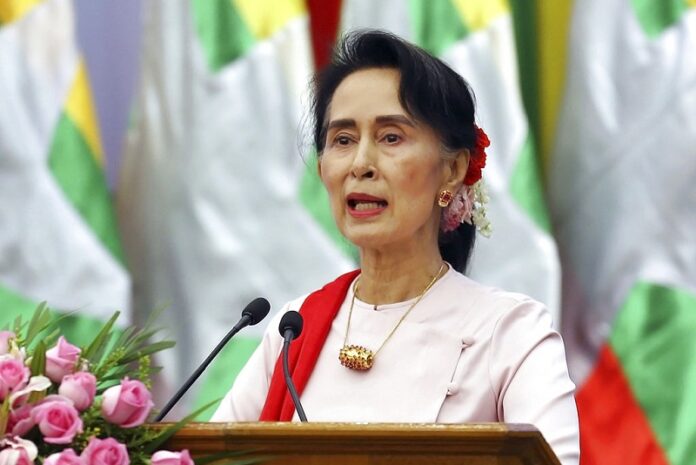 YANGON — Myanmar's ruling party led by Aung San Suu Kyi won just over half the seats in by-elections to fill 13 of the 1,171 seats in national, regional and state parliaments, according to complete preliminary results.
Suu Kyi's National League for Democracy took seven of the 13 seats made vacant by death or resignation. Initial results for 12 races showed it had won six seats, and the delayed result for the 13th race, for a lower house constitutency in western Chin State, gave it its seventh victory.
The results for Saturday's polls showed the NLD generally retaining support in the country's heartland, but yielding seats to parties representing ethnic minorities in the areas where they live, mostly in border regions.
The NLD won a landslide victory in the 2015 general election, when there was wide-ranging popular support to end decades of military rule. But minority groups have been disappointed that the government of NLD leader Suu Kyi has failed to meet their demands for greater autonomy and a halt to aggressive army activities in their territories.
While the results of the small number of races have a negligible effect on the political balance of power, the contests were being watched for trends ahead of the next general election in 2020.
The return of voters to ethnic minority parties representing their interests had already been seen in another set of by-elections last year. What this year's polls seemed to underline was the danger to the NLD of a weak voter turnout, which was probably behind the upset defeat of an NLD candidate for a Yangon regional parliament seat.
That contest was won by a representative of the Union Solidarity and Development Party, the country's main political grouping after the NLD. The military-backed USDP won three seats in Saturday's polls.
Suu Kyi's appeal with the country's Buddhist majority has not suffered much from a crisis involving 700,000 members of the Muslim Rohingya minority who fled a brutal army counterinsurgency campaign in the country's west. However, economic development has been lagging and is a source of disappointment among her supporters.