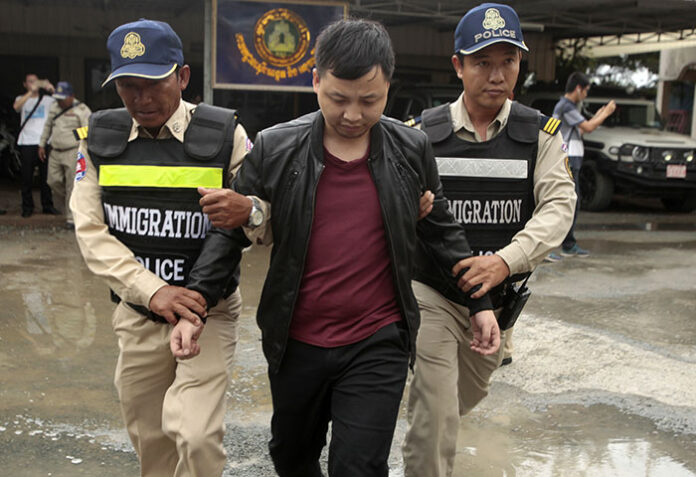 PHNOM PENH — Police in Cambodia on Monday arrested more than 200 Chinese citizens accused of defrauding people in China over the internet.
Gen. Y Sok Khy, director of the Interior Ministry's Department of Counter-Terrorism and Transnational Crime, said 36 women were among the 235 Chinese arrested in three different villages in Takeo province south of the capital, Phnom Penh.
Online scams by Chinese gangs that operate from foreign countries and target mainland Chinese are common throughout Southeast Asia and have been found as far away as Kenya and Spain. Cambodia has arrested and sent at least 1,000 Chinese and Taiwanese residents allegedly involved in such schemes to China since 2012.
The scams are carried out by making phone calls over the internet and employing deception, threats and blackmail against the victims. Placing phone calls over the internet makes communications costs cheap and hinders tracing of the source of the calls.
Y Sok Khy said the arrests followed months of surveillance and investigation. The suspects were sent to Phnom Penh for further questioning and will be deported to China, he said.
The arrests have caused controversy because suspects from Taiwan are usually deported directly to China in deference to Beijing, which views Taiwan as its own territory without sovereign legal status. Taiwan rejects China's claim to its territory and wants its citizens returned there.
Story: Sopheng Cheang