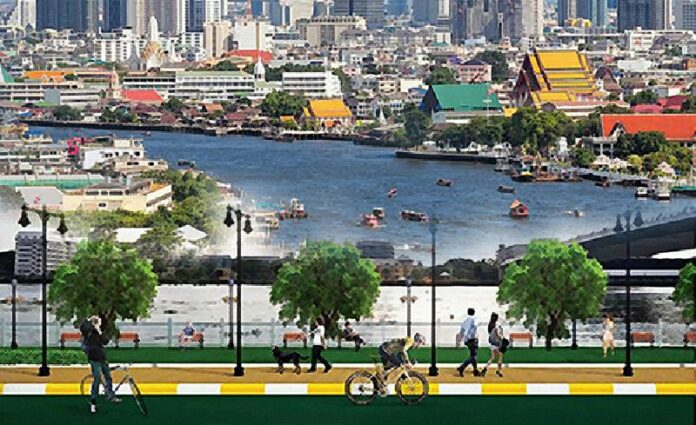 BANGKOK — An ambitious and costly redevelopment project of the capital city's greatest natural feature has been delayed after only one company was left in the running to get it started.
Two of the three consulting firms which had bid on the 14 billion-baht Chao Phraya river promenade dropped out since August, leaving only developer Panya Consultants Co. Ltd., said city official Pinit Lertudomthana, which means the project is on hold as the law requires a competitive bid, Daily News reported.
The contract, worth 120 million baht, was to consult for seven months on preparing a feasibility study of the 14-kilometer walkway spanning both sides of the river from the Pinklao to Rama VII bridges.
The winning firm would research how the project would impact the environment, city plan, waterflow and communities. It would also organize local hearings and conduct an environmental impact assessment before the project went for formal approval.
Should the Bangkok Metropolitan Administration reopen bidding, it will need to adjust the project to appeal to more firms, Pinit said.
On May 12, the military government approved the 14 billion-baht project to turn the banks of the Chao Phraya into a concrete promenade to be the "new landmark" of the country. The BMA claimed that apart from maximizing public land use, everyone would benefit when it became a recreation area, including a bike lane.
Panya Consultants has previously bid on flood control projects for Bangkok and were hired to prepare an environmental impact report for the controversial Dawei sea port in Myanmar.
The plan was soon harshly criticized both online and offline with more than 16,000 signatures on a petition opposing it. The cabinet was slammed for its fast passage of the deal without a well-rounded study or public consultation, raising questions about the deal's transparency.
Friends of the River, the activist group which started the petition, said narrowing the river by adding the walkways and more development would affect water flow and the ecosystem. They believe the promenade will destroy both the river's character and communities which have long settled there.
The BMA initially expected hire the consulting company in September to start construction, estimated to take 18 months, in June 2016.