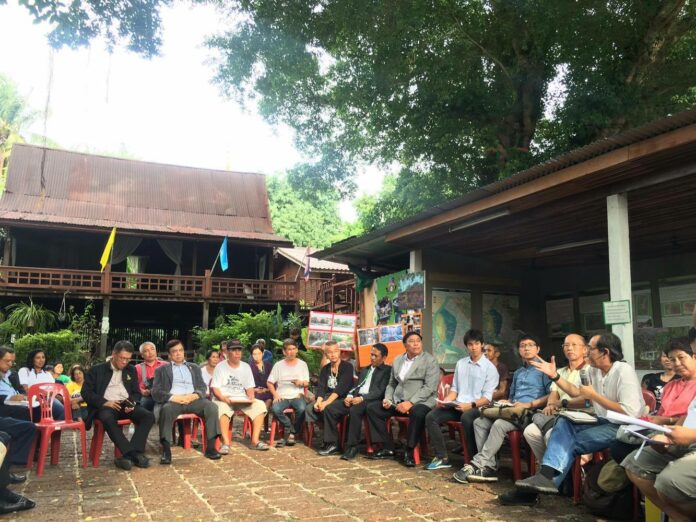 BANGKOK — After 24 years of trying to kick out a small community dug in behind the walls of a historic fort, City Hall sat down with them for the first time yesterday to talk about solutions.
The first public discussion over the unending conflict was arranged to find a way forward, given the Bangkok Metropolitan Administration's last ultimatum for the 100-year-old community near Wat Saket to leave passed on April 30.
"At least today they promised they won't break into the community to evict us at night," community leader Thawatchai Woramahakhun said. "I have been sleeping not more than three hours since the eviction news came out. Now I can sleep better."
Read: This Endangered Community Has Been Fighting Eviction 24 Years (Photos)
In 2005 the Supreme Court ruled the administration, or BMA, had the right to clear the homes and residents as they sat on public land. The city has said it wants to build a park on the site. But the more than 300 residents who have lived there for three generations asked authorities to share the space instead of erasing their historical community from the map.
Though no conclusion was reached yesterday, Thawatchai said he was pleased just to see an effort by authorities to reach out and talk about solutions directly with residents. He said for the past two decades, Pom Mahakan residents have only read about the city's demands in the pages of newspapers.
One point of agreement in the discussion attended by a deputy provincial governor, Pom Mahakan residents, academics, media and concerned parties, was that developing the site should be an inclusive process.
What the law actually says though is a sticking point. Though City Hall and Pom Mahakan agreed in writing to share the land following the 2005 court verdict, a 1992 royal decree reclaiming the whole area remains in force.
Deputy Bangkok Gov. Aswin Kwanmuang said the government was compelled by duty to both execute the law and serve its residents. Aswin listened to proposed solutions but said he could not make any decisions.
"I need to pass it all on to Gov. Sukhumbhand [Paribatra]," he said. "We should be able to reach a solution in a few days."
Community representatives were invited to further discussion at City Hall on Friday morning, but no conclusion was reportedly reached.
Related stories: